Sunday Links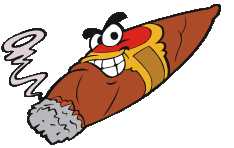 As I prepare this blog entry the night before its posting spring is once again in the air. It is currently 53 degrees which feels a lot warmer after a cold winter. Team USA has won it's first round game against Canada and the regular season draws closer every day. As a Yankee fan I am not upset that Alex Rodriguez is hurt, but I do not wish that upon anybody. One has to wonder though if the torn labrum and cyst is in the general area he used to inject the steroids. Yes, I am a Yankee fan and I am far from and Alex Rodriguez fan. Every time he opens his mouth he puts his foot in deeper, and it has grown tiring. Here's to hoping my beloved Yankees can pull a trade for Chone Figgins from the Angels.
Last night I spoke to the Oliva rep and he informed me that the Nub Maduro won't be out til April. The Nub Miami will be a very limited release, and finding them at your local B&M will be difficult due to the fact that the Padilla factory only has 12 rollers. My local B&M was told he will be lucky if he gets 3 boxes. So if you want them, when you see them, buy them. They will be gone in the blink of an eye, and could be more elusive then the Oliva V Maduro.
This week on the cigar blogs:
Cigar Newbie shares his review of the Hoyo de Monterrey Sabrosos (5 x 40) with us as well as his purchase of a 32GB 2nd Generation iTouch.
Cigar Command shares his thoughts on the Oliva Master Blend 3 and gives four stars.
The Perfect Draw has information on a new cigar tax in Pennsylvania.
The World According To Stew does a video review of the Arganese Cugine. His pronunciation of Cugine proves why Irish guys should not try to speak Italian.
As a side note I should make you all aware that "Stew" and I are friends and my poking fun at him is not meant in a malicious way. The proper pronunciation of Cugine is Coo-Zheen.