Sunday Links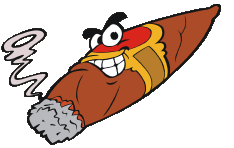 Another week has flown by and I want to thank everyone who took the time to answer my call for advice last weekend. I have started taking part in the comments and posting pictures of the cigar smoking experience. I realize there are also requests for me to put pictures of my humidors online but the cigar turnover rate is so fast with the exception of some cigars I am aging for a special time that I felt it wasn't feasable. I did however add a link up above called My Cigars where I will post my purchases for you all to see how obsessed I am.
The buzz on the internet this week is around The Black Band Project, A lot of people are trying to figure out who is behind it and I've heard just about all the guesses, but I can tell you I am in the know and I was asked with some other well known bloggers in the cigar world along with some members of Twitter to take part in the campaign. So head up over there and sign up for some free cigars. I can assure you this is a legit site.
On to the love, also known as the Sunday Links!
Beezer's Bauble has a review on the cigar that started it all for my website which is nearing it's 1st birthday. . The Nub Cameroon Torpedo.
Mike in WV has a hysterical beer review of Bud Light.
Puffing Cigars who was nice enough to help figure out some issues with the programming of our website has his take on the Cuvee No. 151
Cigar reviews might be a little limited this week as I am suffering from allergies but don't forget our contest to win a 5 pack of Soprano cigars from CAO. Details in the post below this one.