Sunday Links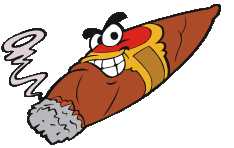 The last Sunday in March is here and we are about 1/4 done with 2009. The first quarter of the year has seen some nice cigar releases that has left me satisfied as a cigar smoker. The highlights of the first quarter for me have been:
What new cigars that came out in the first quarter did it for you?
The biggest disappointment was the La Flor Domincana Salomon which I had major burn issues with. La Flor Dominicana however stepped up to the plate and sent me a replacement box that I will revisit and review in April. So kudos to La Flor Domincana for having superior customer service.
And now for the ever popular Sunday Links where we don't mind giving some love to our fellow Brothers of the Leaf.
The World According To Stew reviews a cigar I refer to as the spark plug but is better known as the Punch Champion.
Nice Tight Ash has a review of a cigar from the makers of Illusione. The Cruzado line of smokes are an amazing kick ass cigar.
Cigar Command won the race to be the first to review the Avo LE 09.
And finally the winner of the 5 pack of Sopranos Soldiers was JasonT from MS. He won our limerick contest with the following entry…
There once was a woman named Monica
Who used a cigar as a vaginal harmonica
Then she said to Bill
I'll give you a thrill
But don't smoke this one til Hanukah
Congratulations Jason I hope you enjoy the smokes and I'll see you all with a new entry this week including the Padilla Habano Barburry.