Sunday Links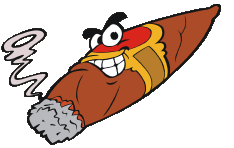 April is here, and baseball is around the corner. This week I will be mailing a couple of cigars to The World According to Stew as we renew our friendly wagers on the Yankees/Red Sox rivalry. It may also mark the first time we do a video review here on acigarsmoker.com. This past week we had the chance to smoke the AVO LE 09, and it is an early contender for cigar of the year. We were also hit with some bad news in New York as the state is looking to increase the cigar tax to 46% which is ludicrous when you consider the state of the economy. Why hurt people when times are tough, and why push to add to unemployment by knocking shops out of business.
Here are the the ever popular Sunday Links:
Her Humidor has a review of the Esteban Carreras 10 Anos Maduro which a friend of mine smoked this week in Philadelphia. The cigar at one time was a Rocky Patel creation but has undergone a blend change and is no longer produced by him.
Leaf And Grape was launched this week by my friend Tony Ricciardi and his first review was the holy grail of all cigars. The Davidoff Dom Perignon, a cuban from cigar from 1985.
The Stogie Review has a short ashes review from Walt of the Arganese Nicaraguan Presidente.