Sunday Links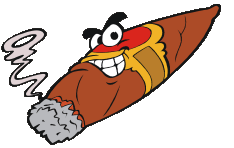 Happy Easter everyone, and Happy Passover. In New York cigar smokers have been crucified by big government. Just 12 days into the month and we have been hit with a 42 cent S-CHIP federal cigar tax as well as an increase in the state cigar tax from 37% to 46%. A Cigar that cost 10.00 will now cost a New Yorker 11.32 plus sales tax. Don't you love how government is hurting the economy for some businesses during these tough economic times.
On to the Sunday Links:
Cigar Choice has a review of a cigar I reached for a few times this week to do a review but I never got around to it. The cigar, Diamond Crown #4 (Robusto).
Keepers Of The Flame has a review of the Short Story from Arturo Fuente. The ultimate dog walker. (A cigar that's perfect in duration when walking the dog)
The Cigar Spy has a review of the ORTSAC 1962 a cigar I plan to smoke today and review for Thursday. Will we agree?
Have a cigar you want to see reviewed? Let us know in comments!