Sunday Links & Question!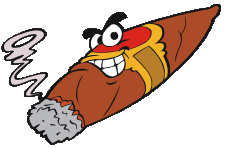 Summer is here… This past week it reached 100 degrees in Los Angeles and today in NYC it will be 92 degrees. I don't know about my readers but in the summer I tend to smoke cigars that are more mild. The strength of a cigar to me just makes the heat that much more worse. With that said and done I have a La Gloria Cubana Series R No. 4 Maduro ready to go when this posting is done…
Don't forget to leave a comment on the CAO Brazilia Box Press review for your chance to win. The winner will be chosen next Sunday.
The Sunday Links:
Cigar Choice has a quick smoke review of the Esteban Carerra Habansos Maduro Robusto.
Leaf And Grape visits one of my favorite smokes in the El Triunfador Lancero.
Toms Cigars has a review of the Punch Corojo 2009.
Every Sunday I'll ask a question and this week…
Does the hot weather change your choice when it comes to the strength of the cigar you smoke?