Sunday Links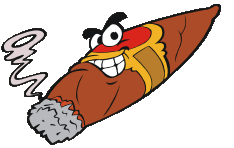 Some housekeeping is on hand this weekend. First of all we broke a record in April for the most hits ever, and I thank everyone for that. We beat out our highest month by more then 2,000 visitors.
For the summer we will do updates 3 days a week. Mon-Wed-Fri unless we get an advance release of a cigar that must be reviewed ASAP. We will also do the Sunday links.
The winner of the April contest for a 5 pack of CAO Brazilia Box Press Cigars is: Ben Lee aka Bulldogrifleman from over at Nice Tight Ash.
The results of the question were:
24 People voted for written reviews
5 People voted for video reviews
4 People couldn't decide and said both.
The Sunday Links:
Puffing Cigars has a pre-release review of the Illusione Epernay
The Weekly Cigar reviews the Joya De Nicaragua Antano
Toms Cigars has a great guide to using Cigar Scissors which in my opinion is the best way to cut a cigar.