Sunday Links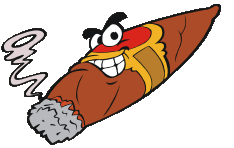 As I was sitting around yesterday I had in my mind a whole thing to write about and of course when I sat down to do the Sunday Links this morning I drew a total blank. Before we get into the reviews of the link from other great cigar sites, I want to invite you all to take a view of a video my friend has on youtube.com entitled Puppy Love. It is definitely worth a laugh.
The reviews of the week:
Beezer's Cigar Babble has a review of the Chateau Real bu Drew Estate. Stay Tuned to acigarsmoker.com as we will give away a box of these via a contest in the next two week.
Her Humidor smokes the Rocky Patel Spring Collection 2009 and Lisa gives it a great review.
The Weekly Cigar has a video review of the Tatuaje Black Robusto.
Seeya all next week when we will have a CD Give away of some great Cuban/Latin music…