Sunday Links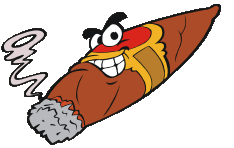 Some interesting items have caught my eye this week…
Jon Huber on Twitter has be touting the new CAO Cigar which will be premiered at the IPCPR connevention in New Orleans this year. He has posted some pictures of the cigar minus the band and it looks like a nice dark cigar with plenty of oils and a firm ash. As a fan of CAO I am eagerly awaiting this well guarded secret.
Ashton has announced that the entire line of the La Aroma De Cuba will now be blended and rolled by Don Pepin in his factory based in Nicaragua. I have found out that the cigars will have a Nicaraguan Broadleaf wrapper. The price point is expected to change, but it is still supposed to be a value smoke according to Ashton. I was also informed that some of the existing sizes will be phased out.
The Pentagon the other day announced they would like to ban the sale and use of tobacco in the US Military. I have to say, "What the hell are the thinking?!?!? Try telling the brave men and women in combat they will not be allowed to smoke when they are out there defending our country and interests."
And finally, once again in CAO News if you have not had a chance check out the website where you can win the CAO Lady Liberty motorcycle.
The Sunday Links…