Review: Rick's Cabaret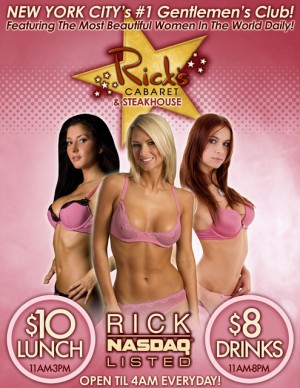 It is difficult to find a place to smoke these days especially in NYC. Smoking has become taboo and at many existing places at times you are made to feel like an outsider. I was recently contacted by the fine folks over at Rick's Cabaret in NYC to inform me that they placed a smoking lounge on the roof of their gentleman's club and to ask if I would like to review it. Being one to never turn down an invite I accepted their offer despite a gentleman's club not really being my cup of tea. I tend to find the girls at these places are hustlers and they basically treat you like an ATM card. I was pleasantly surprised by what I found..
When we arrived at Rick's we were greeted by a host who knew to expect me and my quests. We were ushered to a VIP area where we had a chance to relax and unwind while checking out the gorgeous exotic dancers. While seated a few came over to check out the new people, but none of them tried to hustle us and the place had a laid back feel to it. The waitress took our drink orders and I was happy to see they had the Summer Seasonal Sam Adams. After a few minutes we were escorted to the roof top.
Once on the roof it was like you entered another world. Surrounded by New York skyscrapers including the Empire State Building you are floored. The well designed rooftop offers comfortable seating and a partial roof in case it begins to rain. Also throughout the rooftop smokers lounge are heat lamps for those cold nights. We had our own cigars with us, but Rick's Cabaret offers a fine selection of Davidoff cigars. Should you choose to bring your own there is no cutting fee. The rooftop offers a breath taking space to smoke with friends and a place to look at the fine girls should you choose to bring one upstairs with you. The futuristic looking rooftop also has a garden feel to it which makes you forget you are in the concrete jungle.
As my friends and I drank our drinks and enjoyed our cigars we had a chance to talk with the host who partook in a smoke with us. He eventually left and sent up a couple of dancers. One of which enjoyed a cigar with us. She also posed for a few photos which is something you won't be able to do if you attend, so after this posting I will share a few with my fellow degenerates.
Rick's Cabaret is a great place to smoke a cigar and the open air offers a nice almost smoke free environment unlike many of the local cigar shops that lack proper ventilation. So if your looking for a place to go with friends stop at Rick's Cabaret. A before dinner drink, dinner at their second floor restaurant and a rooftop smoke is a great way to spend an evening in New York City. For more information call them at (212) 372-0850. If you go or call let them know you heard about the place from acigarsmoker.com