Sunday Links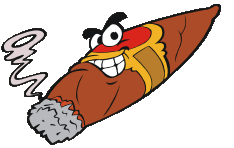 Thanks to everyone who left a comment to win a 5 pack of Illusione Epernay. Some of the comments left touched me, and I can't thank you enough for them. It makes the blog going when people leave comments, it justifies the effort I put into this site.
The winner of the contest is: Jon (Wingfan13). We will be contacting him via twitter or email shortly. Stay tuned for more contests soon!
Some cigar news:
CAO Cigars is releasing a line called The Cuban Press. This sampler box contains the Italia, Brazilia, MX2 and the LX2. You can view a video of these cigars arriving here.
Perdomo is releasing its first full bodied cigar at the IPCPR this year.
Don Pepin has a sub brand coming on in the My Father line. These cigars called Le Bijou 1922. Le Bijou means The Jewel, and 1922 is the year in which Jose Pepin's father was born. These cigars will be available in 3 sizes. The sizes are Churchill (7 x 49) Petit Robusto (4.5 x 50) and Toro (6 x 52).
I promised my top 5 cigars this year so far. I have reviewed all these cigars on this site, but I will include links from other sites.
Until Next Week… Keep on Smokin'