Sunday Links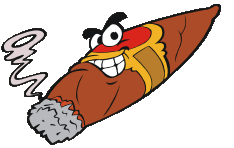 August. The dog days of the summer. Can you believe how fast this summer went? I've said it before and I'll say it again the days go by faster the older you get. I hope you all have been able to find the time to smoke a cigar, and are enjoying the warm weather.
Some more new cigars have been announced.
C.A.O. will release La Traviata which is an old Cuban brand named after an opera written by Verdi in 1853. The cigar is a full bodied cigar with an Ecuadorian Habano wrapper, Cameroon binder and ligero tobacco from Nicaragua and the Dominican Republic. It will be offered in 3 sizes. the Divino (5 x 50 ring); Radiante (6 x 52) and Intrepido (7 x 54), varying in price from $4.95 to $5.75 each, not including local sales and tobacco taxes.
Alec Bradley is releasing the family blend which comes in boxes of 50 and is available in one size only (5.5 x 50).
The Sunday Links…
Cigar Newbie has undergone a design change and has a review on the Romeo Y Juliete Reserva Real Porta Real.
Keepers Of The Flame has a comparison review of the Padilla 1932 old blend vs new blend.