Sunday Links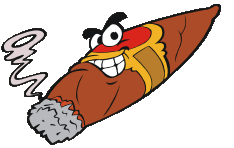 Welcome to the Sunday Links… This week we shall start off with a little bit of news and commentary…
It appears that Don Pepin will no longer be represented by The Cigar Agency in the northeast, USA. Don Pepin Garcia it appears has decided to go in house with its own sales force.
As I mentioned earlier this week I joined the CRA while I am still unsure if they are handling things the right way and are seriously making a dent, I decided to make a donation to get 2 cigars not available anywhere else. For all new or renewing members joining the CRA you get a random pairing of a cigars from Ashton, Arturo Fuente, Aurora Avo, Alec Bradley, C.A.O., Camacho, Carlos Toraño, Casa Fernandez, Diamond Crown Maximus, Drew Estate, Don Pepin, Fonseca, La Flor Dominicana, La Gloria Cubana, Oliva, Padrón, Perdomo, Punch, Puros Indios, Rocky Patel and Tatuaje. I know which two I am hoping to receive, but knowing my luck it will be the 2 I want the least.
The following is personal. As some of you know when they first came out I was a huge fan of the Oliva Connecticut over the Camacho Connecticut. Now that some time has passed I find myself reaching for the Camacho. Even though I do not smoke mild cigars, these two have both continued to hold my interest.
I ordered yesterday as box of cigars from the Chicago Cigar Co. The Cain Maduro were just too and the price of $115.00 for a box was too good to pass up. They have both the Maduro and Habano in stock, so if yo call to order tell them acigarsmoker.com sent you! If you love a full bodied cigar, I suggest you check these out.
The Sunday Links:
Nice Tight Ash has a great piece on why you should join the CRA.
The Cigar Spies gives us their take on one of my favorite releases this year, the Cuchillos Cubanos from Illusion.
Tony Casas reviews the Acid One cigar, if you like infused cigars check out his blog as he reviews a few of them.
Til next time, Smoke Em If You Got Em!