Sunday Links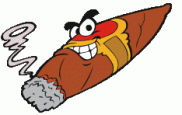 This past week acigarsmoker.com hosted a party in NYC at Rick's Cabaret that was well attended.  Under the the shadow of the Empire State Building we enjoyed a nice comfortable night at the futuristic looking rooftop smoking lounge on top of Rick's Caberet. Each person in attendance was given either a Dunhill Signed Range or a Nub Habano courtesy of this website.  As the night progressed we were joined by some of the lovely ladies that work at the gentleman's club. The highlight of which was the Wall Street Stripper who provided massages that were to die for. To everyone in attendance friends both old and new I thank you, but most of all we light up a cigar today for Rick's Cabaret for such a stellar evening.
The Sunday links…
Nice Tight Ash has a review from Ben on the Alec Bradley Vice Press 6T4.
The Cigar Spy gives us a review on the 5 Vegas Relic
Congrats to Jerry of Stogie Review on the birth of his daughter. Be sure to check out the redesign of their great site!
If you have a blog and want to be linked to this site drop me a line via the contact page… and while I didn't bring a camera to protect the innocent here are some pictures of the talent that you missed out on if you were not in attendance..