Sunday Links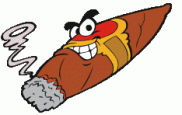 The Cigar Community is a great community weather it be online or in your local cigar shop. Various cigar bloggers have agreed to pick up the slack for me as I deal with flu like symptoms that will keep me from reviewing for at least a few days more. So this is a thank you to all that answered the call for guest reviews.
Some cigar news:
Padilla is releasing a 10 pack of Robusto cigars with the MSRP of 89.95. The 10 pack will include 2 each of the Habano, Miami, 1932, 1948, and 1968.
Online cigar retailers dodged a bullet this week as the Philadelphia Tobacco Tax of 30% will not effect large size cigars. The last minute change to the bill did not spare small cigars which will be taxed at 8 cents a stick.
The Sunday Links…
Cigar Jack is getting active again and offers us his take on of my favorites the Cain Maduro.
The Aspiring Gentleman is a great source of everything for the distinguished gentleman such as scotch and cigars.
Keepers of the Flame offers a in depth review of the Cuchillos Cubanos.