Sunday Links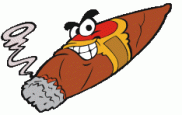 I've said it before, and I'll say it again. The cigar community is the most tight knit community in the world. About 2 weeks ago the list of Tatuaje retailers for the Drac and the Boris were released. This year is the hardest year to date to try and track down some of these great cigars. Well, I put out on twitter to some friends that I was looking to buy these sticks. One of them let me know I will indeed be getting my hands on some Dracs, and when they come through I will thank him here as well. The other day I got a message from Jerry Cruz of Stogie Review fame letting me know he was sitting in a cigar shop that had the Boris in stock, with 5 boxes left unspoken for. I called up the shop which has since sold out and took a box. Believe me I wanted 2 but I chose to take just one so yet another fan of Pete Johnson's limited edition smokes could have the same enjoyment as I.
It is a shame that someone who bought some cigar boards a short time back did not understand how great the cigar community is. He banned me from the board due to this website being advertised in my forum signature. He stated "Would you advertise another cigar shop if they were in the same city as you". The answer is yes. The cigar community is a community chastised by many and we as a group need to stick together. Stogie Review has done a lot to promote this site, and I have grown thanks to their promotion. We help each other out, and that is how I got this cigars. I will continue to spread the Sunday links so we as a community can grow. The only way we can continue to exist is to join together as one. It is a shame that certain someone could not comprehend that.
The Sunday Links…
Until next week, smoke em if you got em!