Sunday Links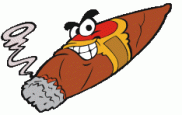 November. Where has the year gone. It is amazing how fast the year has gone. The first Christmas catalog already arrived at my house and I have begun my list of the years best cigars. I hope everyone had a happy and safe Halloween and that some of you got the best treat of them all in regards to cigars with the Pete Johnson Monster Series releases. If not fear not, I did not get my first Frank last year til after Thanksgiving.
I spoke to the Rocky Patel representative the other day and she informed me that this year there will be no Rocky Patel Winter seasonal blend release. There is also a possibility that the Fall 2009 release could be the end of the seasonal blends. This is based on the fact that there is no Winter blend and was not confirmed by the rep.
I met the lovely Sharon from Perdomo cigars this week and she donated a T-Shirt and a couple of Perdomo Patriarch cigars for raffle that will start on Friday, November 6th. So be sure to check back for details.
Also some sadness hit the cigar world this week as cigar master Avelino Lara passed away. Mr. Lara was once the personal roller for Fidel Castro and was in charge of the Cohiba cigar. He moved to Nassau in the Bahamas where he helped create Graycliff cigars. Avelino Lara died from complications of thyroid cancer and was 88 years old.
The Sunday links:
Cigar Choice offers up a take on the Boris from Tatuaje.
Cigar Inspector offers up a review on the Alec Bradley Special Cabinet Reseve (SCR).
Her Humidor returns with a review of the Liga Privada T52.
If you would like to be included in future Sunday links please contact us with the name of your website.