Enter To Win!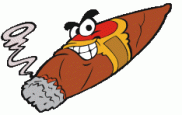 When I first started this site it was a hobby for me and continues to be such today. However we have grown from 100 hits a day to over 1,500 page views a day. This has allowed us at acigarsmoker.com to begin to charge for advertising space on the site. In the past we used to trade advertising for cigars but that has all changed.
If it wasn't for you the readers we wouldn't be able to do this.. so the money earned will be given back to you in a series of give backs to people who have become friends and to those who remain lurking in the background…
So here is the deal…..
We are approaching the time of year where the top smokes of 2009 are being formulated. I will post my list around Christmas, but this year we will also post a list of what the masses think… To have the chance to WIN A $100.00 GIFT CERTIFICATE to famous-smoke.com leave a comment with your TOP 5 CIGARS of 2009. Do so in order, because they will be weighted when we tabulate the entries. 1st is worth 5pts, 2nd is worth 4pts, 3rd is worth 3pts, 4th is worth 2pts and 5th is worth 1 point.
This contest runs to 11:59 pm on Thanksgiving Day. The winner will be selected by random draw and will be announced around 12 noon on Black Friday.
Good luck!
Please Note: Only those who leave a top 5 list will be eligible to win. Multiple entries from the same person will result in each entry becoming invalid.
Some people have emailed me unsure where to leave a comment. Click Here and scroll down to leave a comment.