Top 15 Cigars of 2009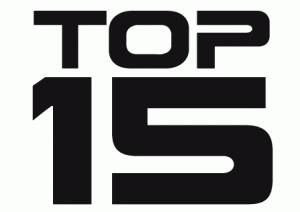 Well it is that time of year where everyone is making up a top 10 list. As always there will be a lot of second guessing by those out there as to what made it and what was left off but these cigars are my top 10 Top 15 of the year. I wanted to keep it open to cigars that were only released this year, but there were some sticks that were so much of a WOW factor that I had to include them here. Now I know some people will ask how a cigar that was rated 97 points is so low on list. Well my top 10 top 15 list is different than most. These cigars are rated not only by how I score them, but how much I will reach to smoke one of them.
I decided to make it a top 15 so I wouldn't have to deal with honorary mentions. Let's face it 2009 was a banner year for cigars and to keep it at 10 would not be fair. So without further ado here are my top 15 cigars of the year.
15 – CAO MX3 – When I first started smoking cigars one of the brands I always reached for was CAO. But over time I lost interest and the only reason I still smoked them was because of the great rep we have in the NY area. That is til someone sent me a MX3, it seems to me the brand had a bit of a rebirth. Sure it started with the LX2 but for me the MX3 put them back on my map.
14 –Liga Privada No. 9 Flying Pig – When I first heard about this cigar I couldn't help but laugh. When I saw it I was hesitant to smoke it and despite the image of Pink Floyd the name involkes this cigar is one flavorful powerhouse. I hear it will be back on the market in March or April and if you run into them, stock up!
13 – Tatuaje Regios Reserva – This cigar was first gifted to me by a fellow blogger. To be honest I forgot if it was Jerry Cruz from stogiereview.com in a hockey wager or Tony from smokescore.com who bestowed it on me first. But this Tatuaje is something special. If I smoked more of them over the course of the year they would definitely rank higher.
12 – Illusione MJ 12 – While going through my list of cigars I reviewed I was shocked to see I did not review the MJ 12 from Illusione. It must be some kind of conspiracy that it slipped through the cracks, and I assure you this is not a cover up. Stay tuned for the review which will appear on Christmas Day….What better than a cigar that is already under wraps.
11 – El Triunfador – The lancero seems to be a size that really gained in popularity this year, and the lancero that stands out above all else is the El Triunfador. While so many other lancero cigars struggle with draw issues, or burn issues, the El Triunfador gets every thing right. Recently re-released the El Triunfador gets the award for Lancero of the Year.
10. Cubao Maduro – An incredible maduro smoke that will be the last cigar reviewed for the website in 2009. If you want to know more be sure to check on December 30th when the review goes live.
9. Alec Bradley Tempus Maduro – The thing that stands out the most about this particular cigar is how much different the flavor profile of the stick is from the regular Tempus line. This cigar is so delicious that I wish it was a regular release.
8. Nestor Miranda 20th Anniversay – I had smoked the signature collection from time to time, but I would never say it floored me. It was simply a good stick, that was very much enjoyable. The 20th Anniversary changed it all for me, and it opened a lot of peoples eyes to the name.
7. Liga Privada T-52 – I was lucky enough to smoke a few of these as pre-releases when my business associate put Jonathan in touch with the NY Legislature in an attempt to fight off the smoking ban of flavored tobacco in NYC. I was hooked from the get go. Featuring a stalk cut habano this cigar has become a staple of my smoking repertoire.
6. Davidoff Colorado Claro – This is the cigar that put Davidoff back on the map for me. As a fan of the line before the wrapper change from Connecticut to Ecuadorian Connecticut I had falled out of love with the brand. This cigar helped me rediscover the brand and go out of my way to visit the store in NYC. That and the outstanding general manager of Davidoff in New York
5. Tatuaje Gran Cojonu – I tend to stay away from cigars over a 52 ring as my comfort zone is a 46 ring cigar. But this cigar proves that a cigar need not be thing to truly have a great taste. The Gran Cojonu cigar has the most prevalent chocolate notes I have ever come across.
4. My Father Le Bijou 1922 – When I made up this list I had left the My Father cigar off because to be honest once I reviewed it I hadn't smoked it since. Over the last week this cigar has been a regular smoke of mine that I had to find a place for it on the list. An incredibly complex cigar, this could be the best yet from Jose Pepin Garcia.
3. La Traviata by CAO – I went through the list of cigars I smoked for the website this year and to be honest with you I was floored by my expensive taste. One cigar that stands out though is this moderately priced gem from CAO. The cigar offers nice notes of mocha and is affordable. I really think more companies need to follow suit especially with growing tobacco taxes.
2. Padron Family Reserve (Natural) – I really wanted to leave this cigar off my list, because at 35.00 a stick in NYC that is just way to much for a cigar. But the quality of this smoke is so good that the only thing that kept it from being cigar of the year was the hefty price tag. When they first came out I smoked them like crazy and the ones in my humidor are there for a special occasion.
1. Epernay by Illusione – Yesterday I gave this cigar to a friend to try for the first time, and he got mad at me for not sharing them sooner. He went on and on about the construction, and the taste. The cigar is affordable enough that I find myself reaching for them more often than any other cigar on the market and because of that I award them cigar of the year.
The winner of the $100.00 gift certificate will be announce on Tuesday as the amount of entries floored me. And I hope that 2010 is a banner year for cigars because 2009 will be tough to top. I asked Eric Espinosa if EO Brands has anything new planned for 2010 and he said, "Don't you guys ever get enough?" The answer is no, so until next time smoke em if you got em!