Sunday Links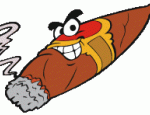 Twitter. You have all heard me mention it here on the site at various times. It's really a great tool with connecting to other cigar enthusiasts as well as other interests you might have. The one big problem is that you only get 140 characters per posting. When your as opinionated as I can  be sometimes these 140 characters can bite you in the ass. I am the type of person who wants to be loved by everyone and not hated by anyone. I am sure along the way I have stepped on some toes, but those who know me know who I really am. Words must be chosen wisely.
When I first joined twitter I really wasn't looking to make some friendships that have crossed over from twitter to real life. Originally I was just looking to increase the reach of this website. I am sure when certain cigar companies joined twitter it was strictly to promote cigars. But along the way you manage to connect with people even with 140 characters. Some cigar companies have really utilized twitter to build relationships with the cigar community. Some of these companies are CAO Cigars (@caocigars), illusione (@vudu9) Nat Sherman (@natsherman_intl) and Tatuaje Cigars (@tatuajecigars).
Then there are companies which I was going to name here, but I decided to take the high road. While I was a fan of the cigar, whoever handles there twitter account is often drunk, and abusive and this is not the way to win over fans and customers. But now I can no longer support this brand with my hard earned dollars. As I said before, 140 characters can bite you in the ass.
If you are on Twitter feel free to add me, I use the name @nyisles
The Sunday Links…
Til next time, smoke em if you got em!