Sunday Links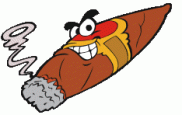 The other day on Twitter I went on a little bit of a rant I wanted to extend on here. Lately there seems to be a lot of cigar review websites popping up. Some of them are really good sites that I love to give props to here on the Sunday Links. However, there are some sites popping up where the sole purpose is to solicit free cigars from manufacturers. I find this to be ethically wrong on many levels. I have never and will never ask for free sticks for review, but if offered I have taken them. Due to this site my cigar budget has gone through the roof, but I enjoy bringing reviews to my fellow Brothers & Sisters of the Leaf. It really pisses me off that certain cigar sites steal ideas from established pages and it angers me even more that these reviewers beg and ask for free cigars for review.
What keeps me going is the recognition from my peers like Walt in PA who happens to be one of the forces behind StogieReview.com. Also kudos from StogieGuys.com and StogieFresh.com help as well. However, the one thing that stands out above all else is the recognition I get from the readers either in comments or if we should happen to cross paths. This my friends is the driving force behind acigarsmoker.com.
The Sunday Links…
Casas Fumando has a review of the H. Upmann Maduro which I personally feel is a stick that often goes overlooked.
Toasted Foot has a review of the Pinar Del Rio Clasico Exclusivo.
The Holy Trinity has a nice article on some tobacco that is used as wrappers.
Tom's Cigar Reviews has a review of the Don Lino Africa Duma which is something I used to smoke on a regular basis.
Til next time, smoke em if you got em!