Sunday Links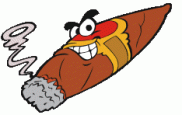 Some general housekeeping is the topic for the Sunday Links today. Over the past couple of weeks we have begun to welcome some new sponsors on board. Click there advertisements and become a supporter of them as well!
Miami Cigar Co is now an advertiser on this website, and help support the site.
Gotham Cigars has some great premium prices and is on board as well.
If you haven't done so already sign up over at acigarforum.com for your chance to win a CAO Prize pack that was announced last week. We will announced the winner on Tuesday morning.
The Sunday Links..
Til next time!