Sunday Links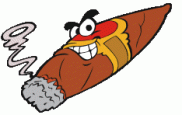 I am trying to figure out what the uproar is with the Canadian Olympic Women's Hockey Team smoking cigars and drinking champagne after winning the Gold Medal. These women worked hard to win gold for the country they love so much. Yet a nation and a world is upset with their actions. Why?
I don't see the people blasting members of the New York Yankees for the sipping of  champagne on the pitchers mound when they won the world series. I don't see the uproar when the holy grail of hockey, the Stanley Cup was used as a water dish for the 1994 winner of the Kentucky Derby. Is it the underage drinking? No one complained when Justin Upton of the Arizona Diamondbacks enjoyed some champagne at 20 years old in 2007 after his team won their division. No one complained when Michael Jordan lit up a cigar in 1998 to celebrate the Bulls winning the championship over the Utah Jazz
So why are we holding these women to a different set of standards. These women deserved a chance to celebrate and for people to be upset is crazy. This was the chance for these women to relax and bask in the achievement they accomplished and so rightfully deserved. The IOC is now stealing that moment from these women. This is nothing more then the beginning of the IOC to pull women's hockey from the Olympics due to the lopsided score.
I hope Cigar Aficionado reaches out to these women to be on a future cover of the magazine. It will be a nice change from the non-smoking celebrities they have featured lately.
The Sunday Links:
Casas Fumando lights up the Dirty Rat from Drew Estate
Toasted Foot reviews the Diesel Unholy Cocktail which is on my list of cigars to smoke.

The Holy Trinity shares with us some inexpensive wines that are thoroughly enjoyable.
Stogie Guys via their Friday Sampler Article discloses the contests of the new CRA Sampler Pack.
The World According to Stew and I shoot the breeze during his Drew Estate Egg review (I come on at 13:00)