Press Release Avo LE10
FOR IMMEDIATE RELEASE
Contact: Edward Simon
esimon@davidoffusa.com
DAVIDOFF OF GENEVA INTRODUCES
AVO LE10 – LIMITED EDITION CIGAR 2010
Stamford, CT, February 9, 2010 – In celebration of Avo Uvezian's 84th birthday, the legendary cigar composer presents another masterpiece, the Limited Edition 2010 AVO "LE10". The LE10 continues the annual success story of Limited Editions with bold and full bodied blends dedicated to all AVO Aficionados and friends. After the huge success of the famed Compañero in 2009, Avo Uvezian is confident to release yet another outstanding limited edition cigar.
The "AVO Limited Edition LE2010" is a noble Super-Robusto format, measuring 55 x 5½". The dark sun-grown wrapper awards the cigar with a precious, extremely elegant appearance. This full bodied AVO LE10 cigar, when smoked delivers pleasing aromas and a sophisticated taste that is only possible from the skillful blending of such high quality, well-aged tobaccos.
Although the filler is completely composed of full-bodied Ligero tobaccos, this opulent Super-Robusto remains balanced due to the combination with a Sumatra Mexico binder and the selected darker Ecuador Special Sun Grown wrapper.
A contemporary 10-cigar count box shows a silver Avo-silhouette-print of the Avo logo, which fades into the matt-black box color. The box has a sliding lid, which can be pulled out and put at the end of the box in a special and separate compartment. In a continuous dedication to present novelties to the trade the AVO LE10 box shows the lid design on retail shelves and the box serves as its' own display.
The AVO LE10 will be launched at Select Merchants only, on March 22 with a retail price of $15.50 taxes not included.
A Cigar no aficionado should miss!!
To launch the AVO LE10, a series of unforgettable intimate evenings will be held where guests will enjoy fine food and wine, great jazz performed by Avo on the piano, as well as having the opportunity to be among the first to sample and purchase the AVO Limited Edition 2010 cigar, before becoming available to the public. Seating at each dinner is very limited, and the AVO Select Merchants expect to sell out within days of the event announcement.
2010 Avo Uvezian Limited Edition Anniversary Cigar Dinner Tour
March 17 – Salem, NH – Two Guys Smoke Shop – 603-891-3222
March 18 – New York, NY – Davidoff of Geneva – 212-751-9060
March 19 – Bethlehem, PA – Cigars International – 484-895-3933
March 20 – Lake Mary, FL – Corona Cigar Company – 407-333-3453
March 26 – Atlanta, GA – Buckhead Cigar – 404-844-0400
March 27 – Chattanooga TN – Burns Tobacconist – AVO Lounge – 423-499-3883
April 7 – Austin, TX – Heroes & Legacies – 512-343-6600
April 8 – Club Humidor – San Antonio TX – 210-824-1209
April 15 – Waldorf MD – Tinderbox – 301-374-9100
May 17 – Denver CO – Edwards Tobacconist – 303-781-7662
May 19 – Albuquerque NM – Monty's Cigars – 505-881-7999
May 26 – Cincinnati OH – Straus Tobacconist – 513-621-3388
May 27 – Indianapolis IN – Indy Cigar Bar – 317-202-0720
***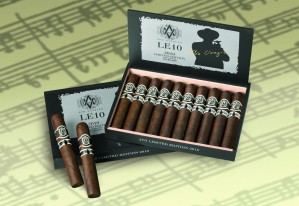 You can order these from Buckhead cigar for $150.00 shipping included…
Call them @ 404-844-0400 and tell them nyisles sent you from acigarsmoker.com