Press Release: NYC #Cigar Tweetup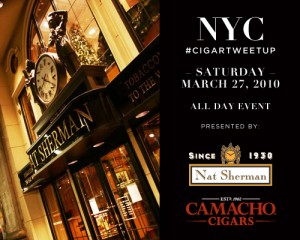 Via: Lindsay Heller
Thanks to the power of social media and the large cigar-loving community out there in cyberspace, I am proud to announce to all of you the first of what will hopefully be many events: the 1st Cigar Tweet-Up in New York City!!! What better way is there to celebrate the coming of Spring and the final weekend of pre-season baseball than surrounded by fellow cigar enthusiasts??
And to top it of this first tweet-up is sponsored by Camacho Cigars! Our friends at Camacho will be providing you with a special cigar to enjoy during the event, but what will it be? A Liberty, a 10th Anniversary??  You need to come down to Nat Sherman to find out and reap the rewards!!

As some of you know Lindsay Heller works at Nat Sherman on 42nd St right in the heart of Manhattan and they have a lovely and large space that's perfect for gatherings of cigar smokers.  On Saturday, 27 March 2010they are pleased to be able to open their doors to anyone and everyone for a plethora of specials, deals, and unique opportunities to not only enjoy your favourite smokes in their store, but to also stock on up on your smoking needs without breaking the bank.
Ffirst comes first: all deals, box specials, etc will be available to EVERYONE whether you are in-store with us or not.  I know that some of you would love to come and enjoy spending the day with us but you live too far away, so if you still want to take advantage of the special offers all you have to do is call 1-800-MYCIGAR or e-mail Lindsay at lheller@natsherman.com!  And speaking of Spring Training and the impending baseball season, spend at least $75.00 during the Tweet-Up from 10a until 7p on 27 March and receive a limited edition Nat Sherman baseball cap (a $25.00 value) for FREE.
When: March 27th, 2010
Where: Nat Sherman 12 East 42nd Street New York, New York
Time: 10 AM til 7PM