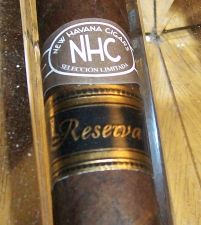 On Monday we reviewed the NHC Seleccion Limitada which features a Habano wrapper. Today we take the time to review the same cigar but with a Broadleaf wrapper and this review will prove what a difference a wrapper can make in a cigar. The same binder and filler are present, but the outcome is different.
The NHC Seleccion Limitada Reserva like the Habano wrapper are limited to about 500 boxes and can only be bought from one place on the internet and that is New Havana Cigars. For information on the price as well as a link please see the end of this review.
Cigar: NHC Seleccion Limitada
Size: 6.75 x 42
Wrapper: Broadleaf
Binder: Nicaragua
Filler: Nicaragua
Strength: Medium
Twitter: @NHCDan & @tatuajecigars
Appearance and Construction: The NHC Seleccion Limitada Reserva has a nice dark broadleaf wrapper and is rolled to perfection. There are some oils present on this stick that has some veins throughout but none of which stand out. The cigar has a nice weight to it, and there are no soft spots on this stick. The NHC label is joined by a secondary band that denotes reserva.
Flavor & Notes : The pre-light draw on the NHC Seleccion Limitada features a nice chocolate note, with some wood and spice, while the foot offers some nice earth notes. Once the cigar is lit up you are treated to some spice that is a familiar trademark of the My Father Cigar Factory. As we continue smoking the first third of the cigar the pepper notes linger and there is a subtle sweetness lurking in the background with some wood. About 3/4 of an inch into the cigar I am totally floored by some notes of cinnamon that took hold of my palate before fading away that left me wanting more. The second third of the cigar the cinnamon notes came back full force which make me happy and there is some pepper present still along with some bitter chocolate notes hanging around in the background. The final third of the cigar the cinnamon slowly fades away and what remains is a graham cracker type note with some dark chocolate.
Smoking Characteristics: The cigar burned nice and slow with a perfect burn from start to the finish. The light color ash held on incredibly well in the 3 sticks I smoked once of which went half the cigar. The draw was perfect and there was a nice volume of smoke produced. All cigars should smoke this well.
Conclusion: The Broadleaf version of the NHC Seleccion Limitada smoked slightly stronger then the Habano but I would still label it as medium bodied. The incredible notes make this a walk off of Grand Slam proportion. I would reach for the Reserva more then the Habano if given the choice except in the AM when my choice would be the Habano. These cigars are great and I plan to buy at least a half box (20 sticks, 10 of each).
Price: $8.00
Score: 91