Event: La Palina Launch
On Thursday night June 17th, 2010 a cigar that was originally released in 1896 had a resurrection as it was officially introduced to the world on the roof top of the world famous Empire Hotel in New York City. It seems that the cigar gods were on the side of William C. Paley, owner of the La Palina brand as you could not of asked for a more perfect night to enjoy cocktails, canapes, and cigars.
When I arrived at the Empire Hotel there was a line to get to the rooftop as the bar located on the pool deck is one of the hottest spots in NYC for singles but thankfully I had an invite and was able to skip the line. So once we checked in with the hostess it was off to the roof.
As the elevator opened up and we stepped off we were greeted by a familiar face to acigarsmoker.com in Arielle who is a hostess and model as well as the lovely daughter of a local shop and brand owner. Upon entry she expertly clipped our cigars and we entered the event to mingle. Once inside there was a sense of nostalgia with music playing from the 1930s and it was easy to envision for me how things might of looked and felt in a time since passed.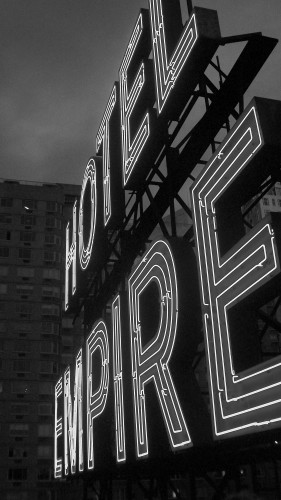 The event was attended by approximately 100 people and as I mingled with the A-List of New York Cigar people such as Ron Melendi from De La Concha, Bob Morrison Sales Rep, Michael Herklots from Davidoff NYC, and David Savona from Cigar Aficionado I was impressed by the amount of people who showed up from outside of New York. Glynn Loope from the Cigar Rights of America, Gary J. Arzt who consults for many cigar companies, Matt from Drapers Cigars in Washington DC and Gary Korb from Famous Smoke Shop in Easton, Pennsylvania.
The La Palina 1896 is a limited edition cigar which will retail for $19.00 before local taxes and was available in abundance. I smoked 2 that night and I found them to be quite enjoyable but with a constant flow of food and alcohol it was hard to take notes. Thankfully I managed to secure a few extras and will have a review next week. The food is worth noting as well as we were treated to crab cakes, figs wrapped in prosciutto and tuna tartare to name a few.
The night was exceptional with old friends, new friends, and a cigar that rounded it out to near perfection. I currently have the cigars resting in my humidor and I will review them in the coming week. I had a chance to speak with William Paley briefly and he was one of the most warm and genuine people I have met in a long time. So, Mr. Paley thank you for inviting me and hosting such a wonderful event. I am sure the cigars will be nothing short of a success.