Events: W. Curtis Draper Little Puff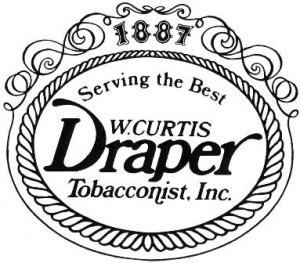 W. CURTIS DRAPER TOBACCONIST ANNOUNCES DATE FOR
THE 11TH ANNUAL DRAPER'S LITTLE PUFF FUNDRAISER
CIGAR INDUSTRY LUMINARIES, CAPITOL VIEWS, FINE FOOD, WINE AND CIGARS HIGHLIGHT ANNUAL EVENT
Washington, DC — July 20, 2010 — W. Curtis Draper, the oldest full-service tobacconist in the District of Columbia will host its signature fundraiser, The 11th Annual Draper's Little Puff on Friday, September 24, 2010 on the Rooftop Terrace of 101 Constitution Avenue NW, Washington, DC. Festivities commence with cocktails at 6:00 PM courtesy of Jim Beam Global, Future Brands and Republic National Distributing, followed by light fare by Charlie Palmer Steak and Shelly's Back Room. The program and auction begin at 7:00 PM. Since 1999, The Little Puff has raised nearly $500,000 for many worthy charitable causes.
Three hundred attendees will enjoy Capitol views, fine food, wine and cigars alongside luminaries of the industry (past attendees have included: Carlito Fuente, Tabacalera A. Fuente y Cia.; Litto Gomez, La Flor Dominicana; Pete Johnson, Tatuaje Cigars; Tim Ozgener, C.A.O. International and Jorge Padrón, Padrón Cigars). Proceeds from The Little Puff benefit three local scholarships:
The Erik Kristensen Memorial Scholarship Fund at Gonzaga College High School: LCDR Erik Kristensen, SEAL Team 10, courageously gave his life for his teammates and country in 2005 while serving in Afghanistan. The Kristensen Scholarship was established by his family, friends and classmates to benefit two worthy Gonzaga students from military families.
The Pat Krimm Scholarship Fund at DeMatha Catholic High School: Pat Krimm helped establish the hockey program at the Hyattsville, MD school. Funds raised provide financial aid for students who would not otherwise be able to attend DeMatha.
The Anne Berman Memorial Scholarship: Named for the wife of a loyal Drapers customer, the Berman Scholarship offers financial assistance to women pursuing advanced degrees in the sciences.
"Draper's success has always been based on personal relationships," states John Anderson, co-owner, "the industry veterans join us from throughout the globe, but our customers also make the effort to come out, from as close as Alexandria and the District to as far as Colorado and Washington State."
"We have a great time each year, but everyone attending knows the causes supported by The Little Puff are extremely personal to us. Our friends and customers take the causes to heart and make this event a success year after year," concluded Matt Krimm, co-owner. Krimm was a friend of the late Erik Kristensen and is the son of Pat Krimm the former hockey coach of DeMatha Catholic High school.
Little Puff ticket categories are: VIP (limited to 25 with early access and exclusive giveaways): $600.00; General Admission (limited to 225): $175.00 and non-smoker tickets (limited to 50): $100.00. To purchase tickets contact Drapers at (202) 638-2555 beginning at 9:30 AM on Tuesday, August 17, 2010 (ticket requests cannot be honored prior to that date and are not available online). Visa, MasterCard and American Express cards accepted.
ABOUT W. CURTIS DRAPER TOBACCONIST
W. Curtis Draper Tobacconist (Drapers) was founded in 1887 by William Curtis Draper. It is the oldest full service tobacconist in the District of Columbia and the fourth oldest in the United States. Proprietors John Anderson and Matt Krimm offer a full array of cigars, pipes, pipe tobacco, snus and smoking accessories to a national clientele. Drapers has been profiled in numerous media outlets including: Bloomberg, Cigar Aficionado, Newark (NJ) Star-Ledger and The China Daily. The shop is located at 640 14th Street NW (at G Street), Washington, DC 20005. For information call Drapers at (202) 638-2555 (outside Washington, DC (800) 572-2382) or visit www.wcurtisdraper.com. Phone orders welcome.