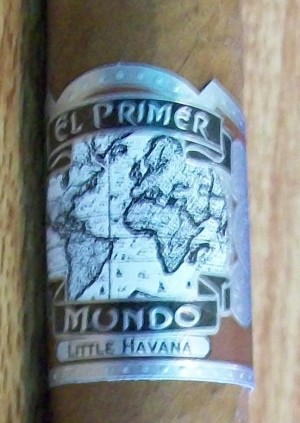 One of the highlights of the IPCPR Trade Show in New Orleans was when I first arrived. You see my hotel room wasn't ready yet as I arrived about 4 hours before check-in time. So I headed over to a cigar bar on Canal Street to kill some time. I put out on twitter that I arrived in the city and within 20 minutes Sean Williams came over to give me some Primer Mundo cigars to smoke. I was simply blown away that he took time out of his busy day to bring me some smokes.
I had first met the man behind the brand in the fall of 2009 at Cigar Inn in New York City. Sean was in town trying to get his brand into some shops and let me tell you they deserve humidor space. If you ever see an event for these cigars in your neck of the woods stop by especially if Sean is there, because he is one of the nicest guys in the business.
The Liga Miami is made at the El Titan De Bronze factory in Miami where Willy Herrera factory owner worked with Sean Williams to create this new blend. How does the cigar rate? Well read on my friends!