Cigar Review: Leon Jimenes Don Fernando #4 *Updated*
Recently the La Aurora Cigars factory brought us a cigar by the "Big Cat" Guillermo Leon with his Signature Collection. However before Guillermo was ready to be at the helm of this storied cigar factory his father had a cigar that was his go to smoke. The Leon Jimenes cigar box I have been told at one time stated in Spanish, "Made especially for Don Fernando Leon" and while I haven't seen a box in quite some time I cannot comment if this is still the case today.
I was given one by The Cigar Chick a few weeks ago and I managed to get a couple of more from Tobacco Plaza so I figured it was time to give my take on cigar made for Guillermo Leon's father.The La Aurora website states, The León Jimenes family of cigars was launched in the market in 1987 as a way of honoring the founders of La Aurora. The line, with an extensive variety of vitolas, has received great acceptance thanks to its mild flavor, excellent balance and exquisite aroma. This cigar provides smooth and creamy smoke with great flavor and is made by hand with tobacco aged for at least three years. Its wrapper is from Connecticut of first quality; its filler and binder are Dominicans."
Cigar: Leon Jimenes
Size: 5 5/8 x 42 (Don Fernando #4)
Wrapper: Connecticut Shade USA Cameroon
Binder: Dominican Republic
Filler: Dominican Republic
Strength: Mild
Facebook: La Aurora Cigars
Twitter: @LaAuroraCigars
Appearance and Construction: The wrapper has a nice amount of oils and the wrapper is of excellent quality as stated by La Aurora, the veins here are so thin and minute they are barely noticeable. The stick feels a tad light in the hand, but there are no soft spots and the foot is very well packed. The cap is perfectly places and finding a flaw in the construction is impossible. The band features the Lion logo that is synonymous with the Leon name, and is red with gold.
Flavor & Notes: The foot of the cigar reveals some nice earth and tobacco notes while the draw offers some wood notes that are closer to pine then cedar. For those who are curious what I use to cut my cigars I flip between a Palio and Xikar Scissors depending which pocket I reach into. The cigar lit quick and easy with my single flame torch and the notes from the first third consisted of cedar, nuts and a creaminess that made the smoke enjoyable. The second third of the cigar begins to develop with some complexity being added to the taste. The core of cedar remains and there is some earth as well however, every now and there are some nice spices thrown into the mix especially a very subtle cinnamon and nutmeg. The final third of the cigar actually remind me of butterscotch on the retro-hale but I know that my mind must be playing tricks on me. The core of cedar was consistent from start to finish with a really creamy finish.
Smoking Characteristics: I was really impressed by the thick white volume of smoke this cigar produced. It did not matter if it was resting, a retro-hale or a regular exhale the smoke levels were ideal. The aroma of the smoke was soft, and did not overwhelm the senses. The draw was free and easy, but not too loose either. The ash while it developed a slip at the foot held on for over half the cigar and considering thin ring gauge that was no easy task. The burn one of the cigar was crisp and straight and the carbon line was non-existent showing off the age of the cigar. One thing to note, a thinner ring is meant to be smoked slowly, if you smoke it too fast it heats up and becomes bitter.
Conclusion: It seems we as a cigar smoking society has decided that stronger is better and that is not always the case. While the cigar is mild it is full of body and was an enjoyable way to start the day and end the day. One thing is evident though and I mentioned this to Guillermo.. The cigar has a feel to it, that is very old school. It is the way cigars used to be and it feels very classic and nostalgic. The cigars being produced today are geared to a different smoker and while I am not sure at times which is better it is always nice to visit the past.
Rating: 89
Price: Nat Sherman NYC $15.00
Disclaimer: Guillermo Leon has become a very good friend of mine, and while I paid for these cigars I feel obligated to inform you of this. Those who know me, know I am opinionated to a fault and friendship or sponsorship would never effect my views on a cigar. As always the typo's and spelling mistakes have been left in this review for your amusement.
Edit: There are two versions of the #4 out there. One is the generic release that all stores have, but there is a version that I got to smoke that was made for Guillermo's father. The only way to tell them apart are the wrapper and the fact that the box has this edition labled as being made for Don Fernando Leon. The following picture was provided by Jason Wood over at Miami Cigar for clarification…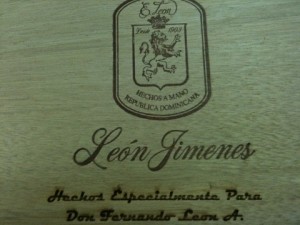 Jason writes, "The LJ Don Fernando is and has been for quite some time available to the consumer/retailers. The part that needs to be cleared up a little bit is that there is a LJ #4 out there that is no where near the #4 Don Fernando, and my good friends at La Aurora decided to use the same band and box for both products. The only way to differentiate between the two is on the box it says that it was made specifically for him."