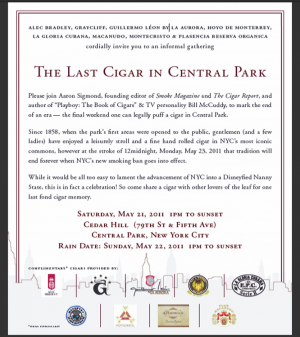 So do you have any plans on May 21st, 2011 at 1:00PM? If you're free, I think you might want to go this event:
You won't be able to smoke your fine luxury tobacco in public parks and beaches after May 23rd. But before NYC's oppressive outdoor smoking ban goes into effect cigar companies including Alec Bradley,  Graycliff, La Aurora, Altadis, General Cigar and Plasencia invite you to have A Last Cigar In Central Park.
This event is hosted by Aaron Sigmond, the founding editor of Smoke Magazine and the Cigar Report, and television personality Bill McCuddy to commemorate the end of an era as it is one of the last times cigar smokers can legally enjoy a cigar in Central Park.
It is certainly a shame not being able to enjoy  a cigar in Central Park (or any New York City Park ).  I'm certain  this Herf will be a great and memorable one.