Studio Tobac ST-DS001 – Cigar Review
A few weeks ago I was at Cigar Expo helping out the guys from Miami Cigar & Company by manning the La Aurora Cigar booth. The regular rep had an even scheduled in Philadelphia so I was asked by the VP of Sales to cover for him. While there I ran into Ian Hummel from Oliva Cigars & Studio Tobac. At the end of the show when I went to say goodbye and he gifted me an Oliva V. I noticed a cigar in his pocket, and being the rude bastard I can be I lifted it out to see what it was. Well, Ian insisted I take it and smoke it despite my refusal. The last thing I want to create with this blog is a vehicle for free cigars. I don't wish to be considered a cigar weasel. With Ian reassuring me I wasn't I accepted the cigar.
The Studio Tobac ST-DS001 is part of the sampler back you get as a GWP (Gift With Purchase) when you buy a Nub or Cain box at the events held this year. As luck would have it I won't be able to attend the local events due to prior commitments. According to Mr. Hummel, the cigar was blended by Bryan  Scholle of Studio Tobac and Gilberto Oliva Jr.who is the Oliva brother that blends cigars and is also responsible for the fields and growing of tobacco.
Cigar: Studio Tobac ST-DS001
Size: 6  x 54 (Approximate)
Wrapper: Mexican Maduro Wrapper
Binder: Nicaragua (Maduro)
Filler: Nicaragua (Maduro)
Appearance and Construction: The is one of the nicest wrappers I have ever seen. The Mexican Maduro is loaded with magnesium pimples and has a lot of tooth to it as well. It is well rolled, with a simple cap. In the hand it feels gritty like a fine sandpaper and has a really nice weight to it. It's balanced in the hand and has a small Studio Tobac label under a hand written one.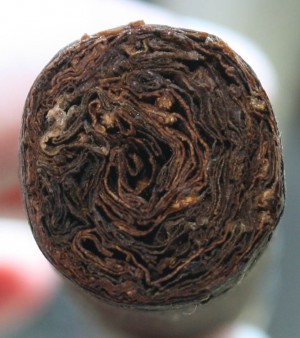 Flavor & Notes: The foot of the cigar served up notes of cocoa and spice and once I clipped the cap the pre-light draw was earthy. As I smoked the first third of the cigar I was a little bit concerned how drying it was. Thankfully I had some water with me. The notes were that of spice and leather with a touch of dark chocolate on the finish. As we moved into the second third the cigar is no longer dry, in fact it's notes have me salivating. The cigar is chocolate overload, but not your generic candy bar chocolate. We are take high-end fine chocolate that is simply incredible. The last third of the cigar is by far the most complex with some charred wood notes joining the chocolate which has become a slightly bitter dark variety. There is an occasional cherry present that teases with a leather finish.

Smoking Characteristics: I've smoked outside by the beach recently so it is really unfair for me to state this cigar burned jagged as it was a bit breezy with some strong wind gusts at the time. Despite this the cigar held on fairly well with some flake that could have been due to the conditions. The draw has some resistance, but nothing that annoyed me and there was a nice amount of smoke production.

Conclusion: I am not sure why they went with ST-DS001 on the name, because the first three initials of STD make room for some jokes to fly about this cigar. What isn't a joke is how tasty it is, which is a sign of how far Mexican tobacco has come. By far one of the tastiest cigars I ever had. I just wish this available as a regular release. As much as I love it, is as much as I hate it because I can't get anymore.