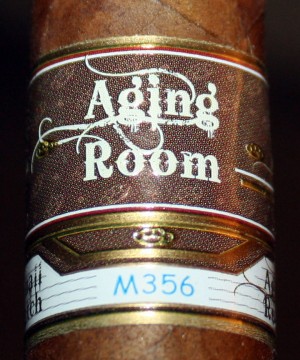 Some people argue that a good cigar blog can drive sales on a cigar. In fact, one manufacturer mentioned on twitter that a few sites that can destroy the sales of a cigar with bad reviews. Being a blogger, I don't know if we have the power to destroy a cigar, but I do know sitting in a cigar shop many people have come up to me and said they are trying a cigar because I reviewed it.
Personally, sometimes I like to listen to the retailer and let them recommend something to me.  That is the case with today's cigar as in the past I have not been a big fan of Oliveros. But knowing the retailer had similar interests in cigars and their profiles as my own I decided to take a gamble with the Small Bactch M356. The story has that these smokes were originally made for the Swag line, but due to tobacco limitations there was not enough for a regular release.
Cigar: Aging Room Small Batch M356
Size: 6 x 54 (Major/Toro)
Wrapper: Dominican Republic (Habano Seed)
Binder: Dominican Republic
Filler: Dominican Republic
Strength: Medium
Cigars Smoked For Review: 2

Appearance and Construction: Made in the Dominican Republic, this puro features a Habano wrapper that is flawless with tremendous color. The cigar has wonderful shade of brown with a tint of red that reminds of the colors of the landscape of Wyoming. In the hand this might be the heaviest Toro I have ever held, however, the foot of the cigar is under-packed, and a few soft spots exist. The band is brown and gold and lacks any pop on the shelf.
Flavor & Notes: The pre-light draw of the cigar is grainy, with some grass/hay notes that are a bit over-powering while the foot of the cigar offers the same notes and a touch of mint. Once the cigar was lit, thankfully the notes experienced on the pre-light were muted as the first notes consisted of wood (pine) and earth. As I settled into the first third of the cigar, the cigar becomes earthy and minty. The mint like notes remind me of a Mojito. In the second third of the cigar some of the depth is lost and the focus is on wood notes with a hint of nuts. The last third of the cigar was a bland cigar with not a lot to write about.
Smoking Characteristics: Burn issues galore. I have smoked 3 of these, and all of them needed to be touched up as they had some burn issues and the the ash was flaky and weak. The draw was perfect and the aroma pleasant.
Conclusion: This cigar is a perfect example on why a review should not be taken as gospel. There are sites that love these, and store owners as well. However for me, it was very disappointing and I won't visit the line or the brand again.
Rating: 84
Price: $8.10