Prerelease: Rodrigo La Fortaleza 2012
Charlie at www.halfwheel.com posted in his last news update in December about a new release from George Rodriguez at Rodrigo cigar that he would be releasing a new line called La Fortaleza for Spring 2012. Well, I did some digging and then called George to talk about some of the things we had heard. Now, considering we like George's Boutique Blend, we were honored that he actually opened up to us about the La Fortaleza release and here is what we have to share.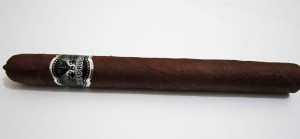 Rodrigo Cigars
introduces La Fortaleza like this… "Full Strength, Full Flavor… Pure Dominican." Now as a Dominican Puro, this stick should be poised to be a great addition to the
Habano Clasico
and
Boutique Blends
which were both excellent in our opinion.
La Fortaleza is designed to be a full bodied Dominican Puro that continues Rodrigo's traditional cigar making style. George insists on a strict adherence to using only Grade A tobaccos. It is blended by master cigar maker William Ventura (formerly of Davidoff) at Tabacalera Ventura in Tamboril, Dom. Rep.
The Dominican Puro features a dark Habano Oscuro wrapper. The blend is designed to deliver satisfaction to those experienced smokers seeking strength while offering a complex flavor profile not often found in today's full bodied cigars.
La Fortaleza is an homage to master cigar blenders. The term "Fortaleza" is commonly used as a way to describe the level of strength in a cigar blend.
Wrapper: Dom. Rep. Habano Oscuro
Binder: Dom. Rep.
Filler: Dom. Rep.
Strength: Full
Body: Full
Flavor: Full
Factory: Tabacalera Ventura, Dom. Rep.
Vitolas: Corona, Robusto, Churchill
Now if we don't have you intrigued yet, I received a package today and will report back to you VERY SOON on La Fortaleza and what you can expect!