Peter Glad Joins the A Cigar Smoker Team
My name is Peter Glad and I'm the new content manager for A Cigar Smoker's Journal. I've had a refined sense of taste since I was a child, likely the only 10 year old you'd ever find putting nutmeg into coffee. You won't find me drinking the quarter beers or the cheapest vodkas, when I go for a night out a gin and tonic or an after five is more appealing to me, and in the summer nothing pleases me more than to sit pool side with a good Mojito.
I'm quite the beer aficionado having toured several breweries including Dogfish head's brewery in Delaware, Yuengling's brewery in Pennsylvania, and I've actually brewed a few batches of beer myself. It is becoming more of a passion than a hobby for me. I love to learn about old brewing techniques, and the history behind different brews.
I'm working with Kevin Paige, who took over A Cigar Smoker's Journal from Barry Stein, and entered into the world of cigars. Just like the world of craft brews, I love learning about the history of the companies and the process of cigar manufacturing. Every time I try a cigar from a new company I visit their site and find out everything I can about the company; where they are today, their process, what makes them different, and how they fit into our industry. I also love to talk with the Reps from the different companies that I've met, and learning as much as I can from them.
Some of the cigars that I've enjoyed most recently are:
I live close to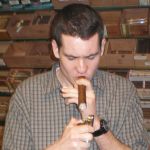 NYC and go down so often to visit family or go to music events I'm looking forward to visiting lounges and shops in the city in the near future. I also hope to visit and review shops and lounges across the country in the future. If you want to meet me, come find me at the IPCPR in Orlando, Florida this year.
If you have any questions for me, want a review of a certain cigar, want to talk about craft brews or just can't afford a real therapist you can email me at peter.g@acigarsmoker.com
You can also contact Kevin Paige at Kevin@acigarsmoker.com