American Eagle Cigars
Sardell Originals is releasing a new cigar for a cause I think anyone can get behind. The new cigar is called the American Eagle and a portion of the proceeds from each sale of this cigar will go toward the Semper Fi Fund, an organization started by Marine wives that helps support injured members of the U.S Armed Forces and their families. (Read more about the Semper Fi Fund here) This cigar also has an interesting twist, it is a camouflage cigar.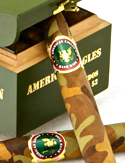 Here is Sardell Original's press release about the cigar: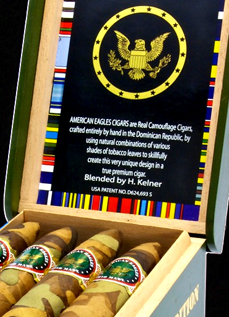 "American Eagle Cigars are Real Camouflage Cigars Crafted entirely by hand in the Dominican Republic by Master Cigar Maker Hendrik Kelner.
The American Eagles-Medal of Honor Edition- are a tribute to the United States Armed Forces. Each box contains a story of an actual Medal of Honor recipient, a real American Patriot. A portion of the proceeds from American Eagle Cigars will be donated to the Semper Fi Fund, a fund supporting the real American Heroes.
American Eagles are an excellent tasting, smooth, mild to medium body cigar, which uses various natural leaf tobaccos to skillfully created a very unique design in a true ultra-premium cigar."
You can check out the American Eagle Cigar website for more information about them here.