TORAÑO FAMILY CIGAR CO. IS A HIT AT THE 2ND ANNUAL NEAT STUFF CASINO NIGHT!!
(Miami, FL) February 15, 2012—Toraño Family Cigar Co. was happy to return as the official cigar sponsor for the 2nd annual Neat Stuff for Kids Casino Night event at the newly renovated Coral Gables Country Club. Neat Stuff for Kids is a local nonprofit agency in South Florida which provides brand new clothing for neglected, abused, and underprivileged children.
Toraño family members Carlos Llaca-Toraño and Jack Toraño were present at the event as they educated event-goers on cigar craftsmanship while sampling some of Toraño's award winning cigars. Event attendees were treated to Toraño new releases Vault and Loyal as this fabulous Las Vegas style event which featured professional grade gambling tables, show girls, and specialty entertainment.
`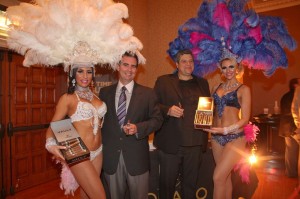 President of Toraño Family Cigar Co. Charlie Toraño has taken a special interest in Neat Stuff for Kids as this local charity nicknamed "The little engine that could" has been awarded the highest possible rating by charity navigator for their efficiency as 96% of all donations go straight to the cause, without receiving government grants. Charlie Toraño said, "I commend Neat Stuff's Executive Director Franklin Monjarrez for his vision and compassion and we as a company are more than happy to support the work that he and the organization does for kids in our local community."
A leader in the cigar industry, Toraño Family Cigar Company is a four generation company currently based in Miami, FL. It enjoys a rich heritage and history in tobacco growing and manufacturing. For more information: www.Toraño.com. Please also follow Toraño on Face book: Toraño A family Cigar Company or on Twitter: @TORAÑOFAMCIGARS.
Creativas Group Public Relations Inc. provides public relations and marketing counsel to South Florida-based businesses, nationally recognized special events and leading non-profit organizations. For more information, please log onto www.creativasgroup.com or email info@creativasgroup.com.