Vega Fina Sumum Edicion Especial 2010 – Cigar Review
Today I am reviewing the Vega Fina Sumum Edicion Especial 2010 by Altadis. This cigar was released in the European market in tubes. The US release is in nicely appointed silver 10-count boxes. After my initial attraction to the packaging, I was particularly curious to try a cigar that had competed in the European Market with prestigious Cuban vitolas. I was pleased.
Size: 5 x 50 (Robusto)
Wrapper: Ecuadorian Habano
Binder: Dominican
Filler: Dominican Republic, Nicaragua & Peru
Strength: Medium
Body: Full
Flavor: Full
Vitolas: Robusto
Cigars Smoked For Review: 1
Appearance and Construction: This cigar is a real beauty, it has a reddish brown color with a rich oil shine to it. It is triple capped, firmly constructed, and few veins.
Flavor and Notes: The wrapper has a woody scent that is sweet, the foot has an alluring citrus aroma that stirs my senses as to what this cigar will deliver. I can't get enough of the sweet citrus aroma, I can't wait to light this baby up. The pre light draw entices me even more, it has a light woody taste with plenty of citrus backing it up. I was already excited. Now I'm simply thrilled.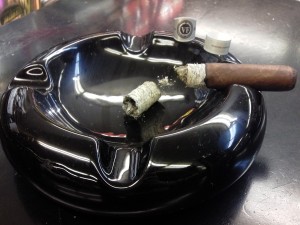 Smoking Characteristics: The first draw carries a lot of woody flavors to it, but a nice sweetness. The woody flavors fade as I start to smoke this third. This cigar is meeting expectations already.  There is a bit of hay and nutty flavors starting to surface now that is blending together with the citrus notes in an enjoyable way. The smoke is rich and smooth and full of aforementioned flavors. Each draw is very enjoyable, and between draws a I'm left with a pleasant lemon taste enticing me to take my next puff. The body of this cigar is full, smoke plumes form the foot in between draws filling the air with the very aromas I am tasting. The draw itself is excellent, and the firm white ash clings tightly to the end of the stick.
Moving into the second third the flavor has become even richer, nothing new has been introduced, but the lemon flavor becomes increasingly pronounced but not in a sour way. This cigar is full flavored and complex, yet the strength is mild making it the type of smoke you can enjoy any time of the day. Due to the mix of zesty citrus, light woody, and nutty flavors, this would make a wonderful summer cigar.
In the final third the citrus has settled back down and the flavor profile matches that of the first with more strength. It is still very complex. The draw and burn remain superb and the white gray ash still clings firmly. There is a constant billow of the beautiful rich smoke coming off the cigar between draws, the body of the smoke remains full, rich, and smooth.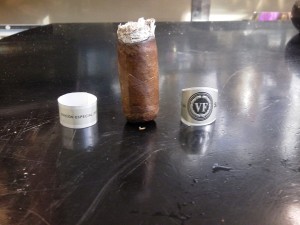 Conclusion: I have to admit I have fallen in love with the Vega Fina Sumum Edicion Especial 2010. It has impressed me in every way, excellent construction, complex flavor, and a rich profile. Coming down to the nub the cedar spice is picking back up as I smoke this till a finger burn. I had high expectations going in since I was so enticed by the aroma of the foot, and they were not only met, but surpassed. This cigar was well made in every aspect and will certainly find a spot in my humidor, and I would recommend to anyone find a spot in their humidor for it as well.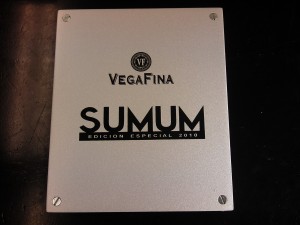 Rating: 93
Price: 6.75 MSRP