Sosa Underground – Cigar Review
Today we are taking a look at the Sosa Underground by Antillian Cigar Corporation. Each cigar is hand-made in the Little Havana factory in Florida. The cigar is billed as full body. They come in boxes of 20 labeled with a special logo designed by a Miami Tattoo artist created for the Sosa Family. The Sosa Underground will be a limited product and was created under the supervision of Arby Sosa.
Size: 51/2 x 42 (Delphic perfecto)
Wrapper: Habano Nicaraguan
Binder: Nicaraguan
Filler: Nicaraguan
Strength: Mild to medium
Body:Full
Flavor: Full
Factory: Little Havana, FL
Vitolas: Arcane (perfecto), Delphic (perfecto), Dar (robusto)
Cigars Smoked For Review: 1
Appearance and Construction: The wrapper is a light brown, about the color of milk chocolate. There are slight veins with a very notable oil gloss and is firm in hand.
Flavor and Notes: At the foot of this cigar there is a very earthy and buttery smell. The pre-light draw yields the same tastes of earth and butter, but with a bit of nutty flavor as well. On the first draw the flavor of olive oil presents itself upfront, with pepper on the back of the tongue.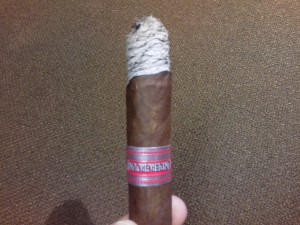 Smoking characteristics: During the first third the olive oil flavor is the most apparent, but is joined with a bit of nuttiness, and pepper on the exhale or retro hale. The draw is fine, the smoke full in body, flavor more towards the medium side. The smoke is very smooth and buttery, making it quite pleasant, and the pepper spice on exhale provides an interesting contrast to both the flavor and texture of the smoke.
Into the second third the olive oil flavor strengthens and takes on more a butter taste, the pepper is still present on exhale, and in between draws, but is joined with an woody flavor. The body of the smoke remains full, and smooth. The burn is even with a tight ash, but the draw required a little work. At this point I'd place the strength of this cigar at a mild to medium.
In the final third the woodiness becomes more noticeable, blending well with the notes of butter and nuts. The burn remains even and the ash solid, the draw has required no additional attention. The smoke is still smooth, and slightly sweet, and lives up to the claim of full body. The strength is still mild to medium, a bit more towards the mild side. The flavor profile remains consistent to the nub.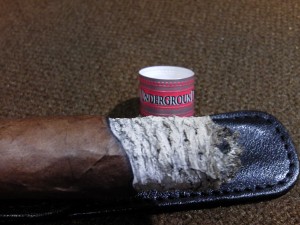 Conclusion: Overall the cigar was well made, burning even, and holding a tight ash. The draw was satisfactory, the smoke full bodied with a rich buttery flavor. The pepper spice offered a intriguing contrast, and kept me content during the smoke. If I could change anything about this cigar it would be to add a bit of strength to it. At an MSRP of 6.50 I'd say this cigar is worth a try.
Price: 6.50 MSRP