American Eagles – Cigar Review
In February I did a story about the American Eagles cigars which you can find here. The idea of a camouflage cigar really intrigued me so I made a point of getting some samples to try it out. Finally my samples arrived a few days ago, and I got a chance to sit down and light one up. Before I go into how the American Eagles smoke lets talk a little bit about them. American Eagle Cigars are camouflage cigars crafted entirely by hand in the Dominican Republic by Cigar Maker Hendrik Kelner, Jr. and distributed by Sardell Originals. Each box comes with the real story of a medal of honor recipient. A portion of the sales from each box is donated to the Semper Fi Fund. To get the camouflage effect, each cigar is traditionally rolled and then contrasting wrappers in camo shapes are applied to the original wrapper to give the camo effect. The result is that you get all three wrapper tastes throughout the cigar. A very unique product.
Size: Robusto (5″ x 50 )
Wrapper: Ecuadorian Conn, Conn Broadleaf Maduro, CA Candela
Binder: Dominican
Filler: Dominican
Strength: Medium
Body: Full
Flavor: Medium
Cigars Smoked For Review: 1
Construction and Appearance: When I look at the American Eagles cigar the wrappers really are striking. The way it is pieced together to create the camouflage effect is quite striking and done perfectly. This is certainly the type of cigar I'd be smoking out in the bush while I take cover. It is well packed, and has no soft spots. The American Eagles has a triple cap which comes down to allow for a generous cut if desired.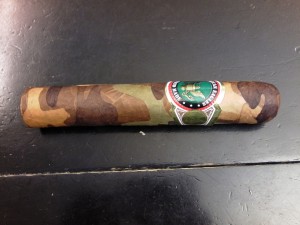 Flavor and Notes: The wrapper of the American Eagles Cigar has a light, sweet hay scent, and a slight note of cocoa. The foot of the American Eagles Cigar has notes of hay, earth, wood, and smells slightly creamy. On the pre draw I get a light, creamy, sweet, woody, hay flavor.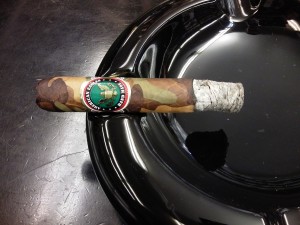 Smoking Characteristics: On the first draw I can taste a light pepper, but the smoke is still creamy, smooth, sweet, and warms the tongue slightly at the start. During the first third there are notes of cream, nuts, cedar, hay, and a slight earthy undertone. The flavor is medium, not very in your face, but well blended. The burn is excellent, I had to admit I was a little worried the addition of the extra wrappers would have impeded it, but my fears have been proven baseless. The draw is also even. Each puff produces an ample body of the rich, smooth, creamy smoke, which has a slight muted sweetness to it.
As I read the second third of the smoke the nutty flavors become even sweeter, and I can now identify it as a macadamia nut. The notes of hay, earth, and a mild cedar still remain. The cedar is not a spice, but just a satisfying addition to the blend of flavors. The burn and draw both remain even. Each puff still produces a full body of smoke, but its a little less creamy now, yet much sweeter and dry.
During the last third of the smoke the flavor remains consistent. It is still a sweet macadamia nut, mixed with notes of earth, hay, and a bit of cedar. The burn and draw still remain perfect, completely dispelling my initial assumption that the burn might be uneven due to the multiple wrappers. The smoke is still cool, full, sweet, and dry. Each draw near the end of the smoke leaves rich notes of sweet nuttiness and earth on my palate.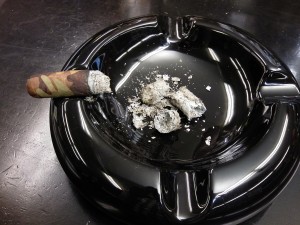 Conclusion: When I first discussed this cigar with a friend before having smoked it we both agreed it may just be a novelty cigar, and that the most interesting thing, and likely the only notable thing, about this cigar would be its appearance. The American Eagles Cigar proved that it is a real cigar, not just a novel idea. It was very well constructed, the burn and draw required no attention during the entire smoking experience. The flavors, while medium, were rich and well blended. Overall this is a good medium strength cigar, and supports an even better cause. Not to mention, while smoking this in public I'm sure you'll get a few looks and just as many inquires about it. What a great way to show your support for our troops!
Rating: 84
MSRP: $149.95 @ 12ct BOX for Robusto, $159.95 @ 12ct BOX for Torpedo, $299.95 @ 50ct BOX for Half Corona, $139.95 @ 10ct HUMIDOR for Robusto with a travel humidor.
Where to buy: Here