Romeo Y Julieta is one of the most popular names in cigars today. They offer several different lines under the brand and an array of vitolas for each line. This is a review of the Romeo y Julieta Reserva Real line.
The Romeo y Julieta Reserva Real line was introduced several years ago as a milder alternative to the 1875 line which has an Indonesian TBN Wrapper. Romeo Y Julieta is just one of the many brands produced by Altadis. Some of their other brands include Vega Fina, Montecristo, H. Upmann, Te-Amo, and St. Luis Rey.
Vitola: Lonsdale
Size: 6 5/8 x 44
Wrapper: Connecticut Shade
Binder: Nicaraguan
Filler: Dominican and Nicaraguan
Strength: Mild-Medium
Body: Medium
Flavor: Medium
Cigars Smoked For Review: 1
Construction and Appearance: The Romeo Y Julieta Reserva Real has a light brown wrapper that is very slightly veined. The wrapper is really beautiful, very esthetically pleasing and has a small triple cap. It is a well made cigar with no soft spots.
Flavor and Notes: The wrapper has notes of light cedar, and a sweet hay. The foot has notes of hay, earth, and cedar. The cold draw has a slightly creamy, hay, and earth flavor.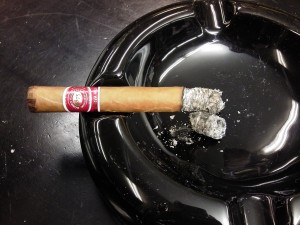 Smoking experience: The first draw has a rich cedar spice, is slightly creamy, and leaves a light tingle on my tongue. The first third of the Romeo Y Julieta Reserva Real is creamy, with a rich cedar spice, and notes of hay and earth. The draw is full, producing a creamy, cool, sweet smoke. A slight tingle remains on the tongue during this portion of the smoke. The ash is tight and the burn is even.
The second third of the Reserva Real is still very creamy, but the cedar spice shifts to more of a sweet cedar flavor. The notes of hay and earth remain, but are now more of an undertone. The slight tingle on my tongue has faded at this point. The draw remains excellent, each puff providing me with an ample amount of the sweet, cool, creamy smoke. The burn, however, required a bit of a touch up.
During the final third, the cedar has faded almost completely. The notes are now made up of the sweet creaminess, hay, and earth. The flavors are not very complex, but very well blended and pleasant. The draw is still even, the smoke becoming even sweeter, cool, and creamy. It finishes very creamy, sweet, and slightly woody.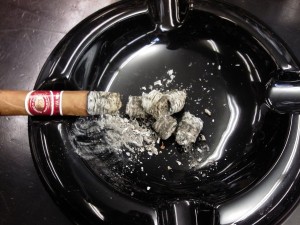 Conclusion: I can see why this is one of the most popular cigars in America. While it is not a very complex cigar it is well balanced with pleasant flavors. It is an great medium strength cigar that can be enjoyed time and time again. This is a great cigar to be enjoyed by new smokers and seasoned smokers alike. Romeo Y Julieta provides an enjoyable experience every time.
Rating: 87
MSRP: $ 6.50