Grimalkin – Cigar Review
Recently I had the pleasure of being introduced to Emilio Cigars. Barry Stein reviewed both the AF1 (review here) and the AF2 (review here) from Emilio cigars.  Barry gave both a 90 plus rating. After smoking the AF1 and AF2 (made by AJ Fernandez) myself and enjoying them just as much as Barry, I decided it was time to finish his work. So this is a review of the Grimalkin from Emilio Cigars.  The Grimalkin was made by Jaime Garcia (of My Father) in the Tabacalera "La Estrella" which is part of the Garcia family industrial park in Esteli, Nicaragua. Gary Griffith is the owner of Emilio Cigars, and also the operations manager of Cigar-ette City in Newark, Delaware. Gary also serves as  a Delaware ambassador to Cigar Rights of America.
Size: Toro 6 x 50
Wrapper: Nicaraguan Rosado wrapper
Binder: Nicaraguan
Filler: Nicaraguan
Strength: Medium – Full
Body: Full
Flavor: Full
Construction and Appearance: The Grimalkin has a light brown wrapper, almost milk chocolate in color, and slightly mottled. The wrapper is toothy with a triple cap. The cigar is solid except for a slight soft spot near the foot. The band is interesting. It appears to be 2 eyes, either from a cat or a demon, with the mouth forming the word "Grimalkin".
Flavor and Notes: The wrapper of the Grimalkin has a sweet clean hay scent. The foot has a sweet hay scent as well, but also notes of earth, and smells slightly fruity. The cold draw tastes of bittersweet with notes of nutmeg and hay.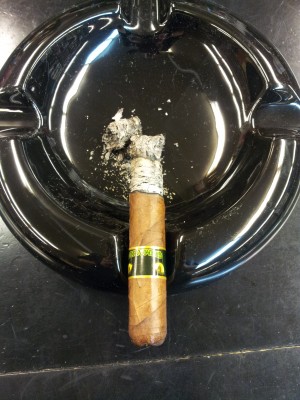 Smoking Characteristics: The first draw is full of rich spices, nutmeg, and a light pepper. There is a light tingling sensation on the palate. The first third is filled with a complexity of flavors including nutmeg,  wood, earth, white pepper, and a sweet hay. The flavors are all very well blended and complex. The burn and draw are both ample. The smoke is cool, rich, full, and slightly dry. The salt and pepper ash clings tightly to the burn line. The strength is a solid medium at this point.
During the second third the nutmeg starts to fade slightly, and the pepper eases off completely. A sweet light cocoa flavor joins the wood, hay, and earth flavors as a new note. All the flavors are fairly evenly balanced, none overpowering the others in any significant way. The tingle on the palate starts to fade during this third, replaced by a sweetness.The burn and draw are both still excellent.
Into the final third the the strength increases and the nutmeg returns, joined with notes of cinnamon. These compliment the blend well with the notes of cocoa, wood, and hay that have persisted. During this third flavors of coffee and nuts start to linger on the palate between draws, increasing my enjoyment. The smoke is still full, cool, and rich. The tingle has faded completely now on the palate. The draw and burn both have required no attention whatsoever.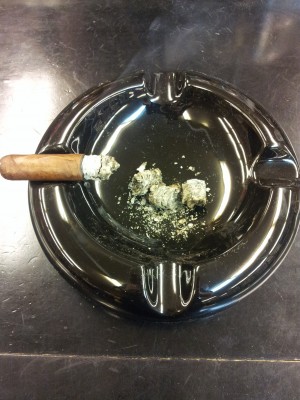 Conclusion: I really enjoyed the Grimalkin. The strength is exactly what I like, a solid medium, that finishes on the fuller side. The flavor also was excellent, complex, and evolved well during the smoking experience. All of the flavors were rich, full, and very well balanced, it was the type of smoke that really took me on a bit of a journey. It is definitely an excellent cigar, one I'd be proud to share with others. Great job Gary!
Rating: 92
MSRP: $9.50