Perdomo Estate Seleccion Vintage 2002 Sun Grown – Cigar Review
The Perdomo Estate Seleccion Vintage 2002 Sun Grown was introduced as a new line at the 2011 IPCPR. It is the follow up to the Perdomo ESV 1991 which was released in 2005. The Vintage 1991 was a huge hit, and the 2002 has been highly anticipated. The Perdomo makes the ESV lines from premium tobaccos aged in bourbon casks harvested in 2002. It is offered in a Maduro, Natural, and Sun Grown. They are made in the Tabacalera Perdomo which takes great pride in craft, and heritage, this pride is reflected in their premium cigars. Perdomo's website offers a wealth of information about their process and craft, including several photos of their factory and growing operations. The slogan on their front banner is "Pride. Passion. Perdomo."
Size: Robusto 5 x 54
Wrapper: Ecuadorian sun grown wrapper
Binder: Nicaraguan
Filler: Cask Aged Nicaraguan
Strength:  Mild – Medium
Body: Full
Flavor: Medium
Cigars Smoked For Review: 1
Construction and Appearance: The wrapper of the Perdomo Estate Seleccion Vintage 2002 Sun Grown is the color of golden wheat and is quite beautiful. The wrapper has almost no veins and a generous cap. The cigar is firm with a slight soft spot near the foot.
Flavor and Notes: The wrapper has a sweet crisp hay scent. The foot has notes of hay, earth, and a light sweet cocoa. The cold draw has a sweet creamy flavor with notes of hay.
Smoking Characteristics: The first draw has a creamy feel with a note of light sweet hay. It leaves a light butter and sweet hay flavor on the palate. During the first third there are notes of cedar spice, sweet hay, earth, and a light cocoa. The smoke is cool, creamy, and full. The burn and draw are both excellent. The strength is just about mild.
During the second third the sweetness picks up, with notes of hay, cocoa, cedar, coffee, earth, and nuts. The flavor is well blended and medium in intensity. A light creamy feel lingers on the palate with a nutty coffee flavor. The draw is still excellent with a full body of smoke being produced on each draw. The burn line is tight and even with a salt and pepper ash.
In the final third the nutty flavors really start to dominate the flavor profile. The notes of cedar, coffee, cocoa, and hay still hold out. The flavor is still very sweet and rich, quite delicious. The draw remains perfect, providing a full body of rich, cool, sweet, creamy smoke. The burn also holds out very tight, but the ash is slightly flaky. It finishes at the nub with a very intense sweet nutty flavor joined by notes of rich coffee.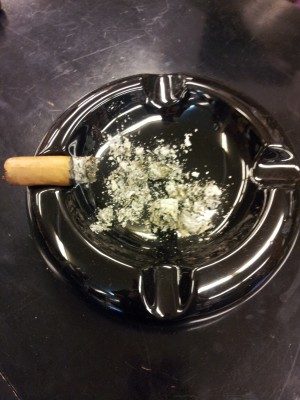 Conclusion: The Pedromo Estate Seleccion Vintage 2002 Sun Grown is an excellent medium strength cigar. The flavors are well blended and compliment each other. It is the type of stick any smoker can enjoy with its rich mild flavors, full body, and mild to medium strength. Overall a fine cigar.
Rating: 88
MSRP: $7.50 (20 count boxes for $140)