Barroco by DiFazio – Cigar Review
Today I am reviewing the Barroco by DiFazio. DiFazio was created in 2008. DiFazio's mission is "to create a new level of satisfaction for the demanding and sophisticated smoker of premium cigars." They try to take into consideration not only the creation and sales of premium cigar lines, but also the world that should surround the enjoyment of this product. Their other lines are the Connecticut, a mild to medium bodied cigar, the Picoso, a full bodied cigar, and the Maduro, a medium to full bodied cigar. The Barrocco is one of the more recent line additions from DiFazio. It certainly looks attractive, lets see if this cigar holds up to their mission.
Size: 5×56
Wrapper: Nicaragua
Binder: Nicaragua
Filler: Nicaragua
Strength: Medium
Body: Full
Flavor: Full
Cigars Smoked For Review: 1
Construction and Appearance: Beautiful light cedar colored wrapper wrapper, very attractive, there are only slight veins. The band is also very attractive, a purple with silver tracing. It is well packed with no flaws.
Flavor and notes: The wrapper has a sweet hay scent. The foot has a very sweet fruity zest that tingles the nose slightly. The cold draw produces notes of fruit zest and is very creamy.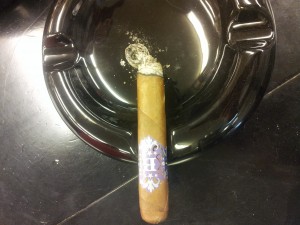 Smoking Characteristics: The first draw has flavors of sweet fruit zest, and a light oaky flavor. The first third of the Barroco by DiFazio has a light oaky flavor with notes of hay, and a tangy fruit undertone.  Each draw leaves a light tingle on the roof of the mouth, which starts to fade after the first inch. The draw is excellent, a very large volume in smoke is produced on each puff.  The smoke is very light and cool. The ash is very tight, and salt and pepper in color.
During the second third the fruity flavor shifts to a rich tangy berry flavor. The flavor profile during this third is slightly sweet due to the notes of berry, blended with notes of hay and oak. The blend of the profile is well done, the oak flavors working fantastically with the berry ones. The strength is slightly more than medium, and very satisfying.
In the final third of the cigar the berry flavor increases, and the oak flavor starts to fade into the background. The notes of hay are still very present, and blended with the sweet berry tang. The draw and burn are both excellent having required no attention. The body of smoke is still full, rich, smooth, and sweet. It ends with a very rich deep berry flavor towards the nub.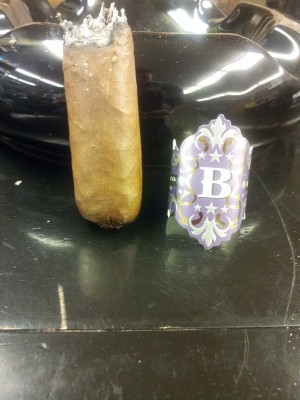 Conclusion: The Barroco by DiFazio is a good medium body cigar. The flavors are well blended, and the construction was excellent. I had no issues with burn or draw at any point. It had an excellent cool, rich, smooth, sweet smoke, that was very satisfying. It made for a well rounded cigar, with a pleasant experience.
Rating: 86
MSRP: $11.00 according to this site.