Today I am reviewing the Dutch Master Masters Collection Palma by Altadis. I've only been reviewing cigars for a few months now, and I know most of our readers are more interested in hand rolled cigars. Yet there is no possible way that a man with my journalistic integrity could possibly overlook such a popular cigar. In fact almost every time I stop at a gas station I see several people saying "Yo, I wanna Dutch". Not only that, but I've heard Dutch Masters referred to in many songs from famous artists, such as Rick Ross, Wiz Khalifa, and Snoop Dogg. In fact, the artist Cassidy in his well known song "My Drink and my two step" sings "I got my drink and my dutchie, I just be the murda, people think that I'm lucky". (You can get the ring tone here) "Lucky" obviously must be referring to the enjoyment of smoking a fine cigar paired with his Olde English 800.
Having heard of, and seeing Dutch Master Palmas so often, I decided to head over to my local Walmart and pick up a box of 55. As I was picking up my box, a guy behind me in line said "Wow a whole box? Where you going to be rolling up later, man? I gotta stop by!" I had to inform him that he was mistaken, the Dutch Master Palma is a machine made cigar, not hand rolled. Amateur.
Here are some images of famous artists who enjoy Dutch Masters.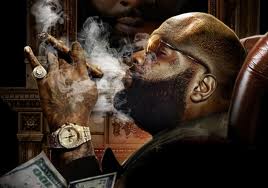 Rick Ross the "boss"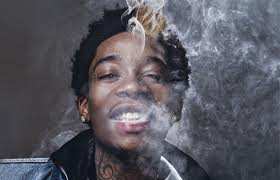 Wiz Khalifa
Construction and Appearance: Each one of the Dutch Master Palmas comes in an individual foil wrap to guarantee freshness. I'm not sure why hand rolled cigar manufacturers have not followed the Dutch's lead.
Looking at the Dutch Master Palma you can tell it is uses natural leaf as stated on the box. The veins and ridges on the wrapper are very pronounced. In fact they use all Cuban Seed tobacco in the Dutch Master Palma.
There is no band on the cigar, but the wrapper is almost caramel in color, and fairly veiny. For the smoker's convenience each cigar comes prepunched, very innovative.
Here are some photos of the box and packaging.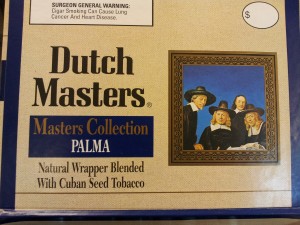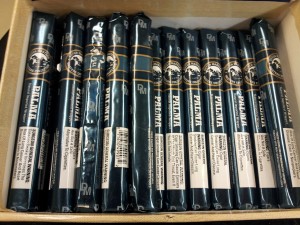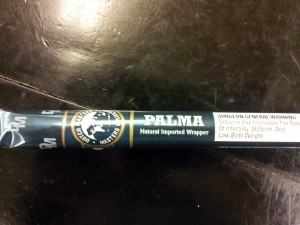 Flavor and Notes: Both the wrapper and foot have notes of sweet vanilla and maple syrup. The predraw produces the same flavor. I really enjoy vanilla flavors so I'm looking forward to trying this one out.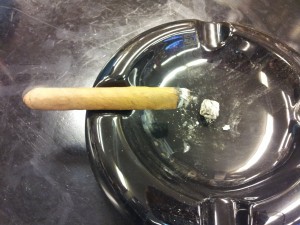 Smoking experience: Now the Dutch offers a real smoking experience! I smoked several of these over the past few days and there are several great perks to smoking a Dutch. The first one is that it works as a fantastic insect repellent. I smoked one outdoors and not a single fly or mosquito bothered me at any point! Another is having a Dutch is like covering yourself in Axe body spray! I smoked one at a party and tons of girls came up to me asking to try it, or "take a hit". Yet unlike Axe it attracted men to me as well. Dudes started coming up to me asking the same thing and I really wasn't into that.
Both the draw and burn were excellent, requiring no corrections at all! The Dutch is also consistent in flavor, offering notes of sweet vanilla. Kudos must be given to the blender. It is simply astounding the way in which they were able to keep the flavors consistent during the entire smoke. The flavor is completely delicious and very enjoyable! It also leaves the scent of french vanilla in the air around you after smoking it. I bet your wife won't give you any guff for the cigar smell if you have one of these.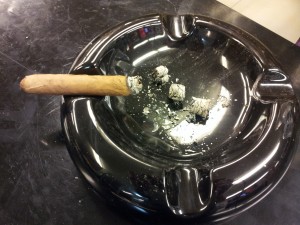 Conclusion: Being a man of journalistic integrity, I feel I need to disclose that Altadis, Walmart, Olde English 800, and the artists or their respective record companies advertise with me or are affiliated with me in any way. Also during this review I made sure to only drink water since I did not wish to taint my palate. This cigar is truly excellent, it has a fantastic construction, with a perfect burn and draw. The only drawback was the ash was a bit flaky. Aside from this I do not have a single complaint about this cigar. It was simply perfect!
Rating: 100! This is the second cigar to ever acquire a perfect rating of 100 on A Cigar Smoker's Journal
MSRP: Each gas station charges a different price, it normally runs from about $1 to $2. It is truly a steal! We could not find a single premium cigar shop that carried this gem. You have to wonder….
Watch for our next beverage review.