Ortega Serie D – Cigar Review
Eddie Ortega left EO Brands at the end of January to create his own company, Ortega Cigars (we covered in this post here). He hit the ground running quickly and release his first line of cigars, the Ortega Serie D to an initial 80 cigar shops throughout the US. Today I am reviewing the Ortega Serie D from Ortega Cigars. You can follow Ortega Cigars on twitter (@Eddieor) or check out their website at www.ortegacigars.com.
Size: No. 8 (5 1/2 x 50)
Wrapper: San Andres Mexican Maduro
Binder: Esteli Nicaraguan
Filler: Esteli/Jalapa Nicaraguan
Strength: Medium
Body: Full
Flavor: Full
Cigars Smoked For Review: 1
Construction and Appearance: The Ortega Serie D has a fairly dark wrapper, very typical of a Maduro wrapper, and has very few small veins. It is a well packed box pressed cigar with no soft spots or notable flaws.
Flavor and Notes: The wrapper has a very sweet scent, but it is an odd sweetness closer to spice like cinnamon or nutmeg rather than the typical cocoa sweetness. The wrapper also has notes of light earth and hay. The foot of the cigar has the scent of sweet molasses and spices. On the cold draw there are notes of light earth, hay, and it is also slightly sweet.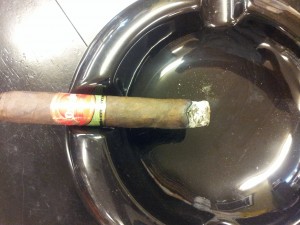 Smoking Characteristics: As I light up the Serie D and take the first puff I am met with a fairly intense pepper and spice blast. It is a mix of white and black peppers with lots of other spices as well. During the first third these spices will continue and be joined with some notes of leather, coffee,  light cinnamon, and a sweet cocoa undertone. The flavor profile is well blended and layered. The construction is also excellent. The burn line is perfect with a tight ash holding at the end and the draw is also impeccable. It is very easy to get a full body of smoke with a single puff, the smoke is cool, rich, dry, and slightly sweet. Not only is the body full on draw, but between draws smoke continues to ooze out of the foot and cap.
During the second third the pepper and spice notes still hold on. They become a bit more of an undertone as the leather, coffee, and sweet cocoa notes fully develop. A bit into the second third the cocoa flavor evolves into a mix of a sweet chocolate and light berry flavor which has a bit of tang to it. This berry and tangy flavors blend really well and offers a nice contrast to the spices.
In the final third the pepper notes finally start to ease, and the spice takes on a more moderate flavor. The leather also fades slightly, but the notes of chocolate strengthen. The flavor consists of chocolate, coffee, berry, and rich mild spices. The burn and draw are both still perfect, and have required no work on my part. The ash still clings tightly to the burn line, and without any effort it is easy to hold an ash well over an inch with no risk of it falling.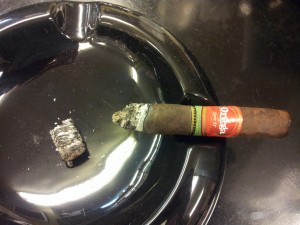 Conclusion: When it comes to cigars I'm simply not a spice guy. I don't tend to enjoy pepper or spice cigars as much as I will enjoy a sweet cocoa, or nutty flavor profile, and if it has to be spice I really only enjoy wood spice. As a result The Serie D really isn't the cigar for me. The only part of the smoking experience I found truly memorable was the final third when the pepper really subsided and the flavor became what I tend to seek in cigars. That being said, the point of a review is to identify the quality of a cigar and its appeal in general and should not be entirely based on one's own preferences. Lots of people really enjoy spicey and peppery cigars, and the Serie D is a very well made cigar. The construction is flawless, the burn and draw never requiring a single thought. The flavor is well blended, with a good evolution and fair amount of complexity.
Rating: 90
MSRP: $6.99