C&C LRMD – Cigar Review and Part 2 of the anniversary contest
Recently I did a review of the C&C Corojo which you can read here. C & C Cigars is run by Joe Chuisano but his history comes from the Cusano Cigar Company started by his brother Mike Chuisano over a decade ago. Cusano cigars gained a great reputation for value priced everyday cigars and also low priced bundles blended like big brand cigars but at a fraction of the price. The C & C Corojo robusto has an MSRP of  $4.29, and earned a rating of 85. C & C certainly did a great job of making a good cigar at a fantastic price. C & C are now available in over 600 stores! After being impressed by the quality of the Corojo at such a low price point I decided to do a review of the LRMD, the Maduro offering from C & C Cigars.
Now that we've posted reviews of 2 out of the three C & C Cigars' lines we want to give you a chance to try them for yourself even if you don't live near one of the 600 stores that now carries C & C. This is your chance to with a 3 pack sampler of C & C robustos! How do you win? Take a picture of yourself smoking a cigar, creativity is strongly encouraged I really can't stress this enough, show us it! The simple way to enter is to post a link to the image as a comment on this post, but you can increase your chances of winning by posting the photo on our Facebook Page's timeline and tagging yourself in it. You can also increase your chances of winning by tweeting the picture (@acigarsmoker). I'll kick this off by getting a picture of myself enjoying a cigar this weekend.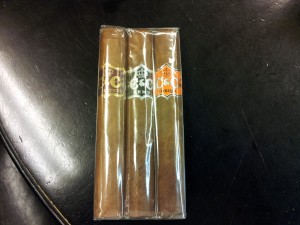 Vitola: Toro
Size: 6 x 52
Wrapper: Dominican Maduro
Binder: Dominican
Filler: Dominican
Strength: Medium
Body: Medium
Flavor: Medium
Cigars Smoked For Review: 1
Construction and Appearance: The C&C LRMD has a chocolate colored wrapper, which is slightly toothy. It is well packed, triple caped, and rolled using the booking method. There were no detectable flaws in the sample I smoked for the review.
Flavor and Notes: The wrapper of the C&C LRMD has a sweet cocoa scent, while the foot has the same cocoa scent, along with notes of earth and hay. The cold draw has the flavors of hay, earth, and is slightly sweet.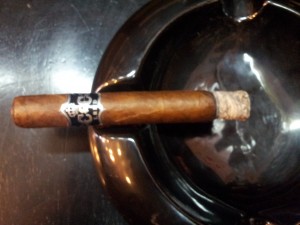 Smoking Characteristics: When lighting up the C&C LRMD, the first flavors are notes of a light oak spice and cocoa. During the first and second third the flavors remain consistent during the entire experience. There are notes of light oak spice, leather, sweet cocoa, and a bit of coffee. The draw started out slightly tight and required a bit of tinkering to fully open up. Once the draw was adjusted, it was ample and each puff produced a full body of rich, cool, creamy, slightly sweet smoke. The flavor is enjoyable, blended, but doesn't quite pop. The burn was excellent, with a perfect burn line during the entire smoking experience. Yet the ash dropped off on its own twice at just under an inch, which could be a real issue if smoking during a drive.
During the final third the flavor did have a bit of an evolution with a sweet milk chocolate flavor really developing. During this third the oak spice fades out, but the notes of leather and coffee remain. Towards the nub a sweet graham cracker flavor really takes over that becomes very enjoyable.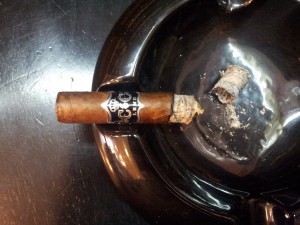 Conclusion:  Just like the C & C Corojo, for the price you are getting a lot of cigar. While it might not rate as highly as other sticks, the rating should be taken with a grain of salt, since when you buy a cigar you are really paying for enjoyment. When you spend so much less you shouldn't really expect as much. For what you are spending you are getting a stick that could easily market at a 50% higher price. The flavor was good, blended, and enjoyable. The construction on the C & C LRMD was better than the construction on many much more expensive cigars I've had, and the experience left me satisfied.
Rating: 86
MSRP: $ 4.49