Ashton Classic 8 9 8 – Cigar Review
Today I am reviewing the Ashton Classic. Ashton is one of the names in the cigar industry that is strongly associated with quality. All of their offerings are simply phenomenal from the San Cristobal to the VSG. The Ashton Classic is their mild Connecticut offering, which is made in conjunction with the Fuente family. The Ashton Classic is available in a variety of different sizes and packaging, including tubos and glass cases, totaling to 16 offerings in all.
Size: 6 1/2 x 44
Wrapper: Connecticut
Binder: Dominican
Filler: Dominican
Strength: Mild
Body: Medium
Flavor: Medium
Cigars Smoked For Review: 1
Construction and Appearance: The Ashton Classic is a beautiful cigar to look at, the light Connecticut wrapper seems to whisper "fire me up" in my ear as I look it over. The wrapper is lightly veined, silky smooth, and ends with a triple cap.
Flavor and notes: Both the wrapper and foot of the Ashton Classic have notes of sweet hay, with a bit of earth. On the cold draw there are the same notes of hay, earth, and a light nutty flavor.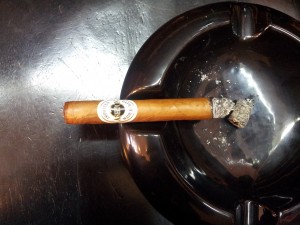 Smoking Characteristics: The Ashton Classic starts out very creamy from the first light. The flavor consists of notes of sweet nuttiness and hay, with a light rich spice. The spice is not peppery at all, but close to a nutmeg, and blends very well. The draw and burn are both excellent. Each puff supplies a large volume of cool, sweet, creamy smoke. It holds a good ash, easily over an inch, without any fear of it flaking off.
During the second third, the sweet nutty flavor intensifies and notes of coffee join into the blend. The light hay flavor is still present, as well as a light spice undertone, but it has faded slightly. This third is also somewhat sweeter than the last. The smoke is still very rich, creamy, full, and very cool. On the palate between draws during this third notes of hay, earth, and nuts linger for quite a while.
In the final third the notes of nuts, hay, and coffee all remain, but a new flavor joins the blend. The introduction of cedar notes creates a pleasant taste which remains on the palate. All the flavors meld well together and help create an enjoyable smoking experience, one worth remembering. The strength is mild, but the body, and flavor are both very full and enjoyable. The Ashton Classic smokes cool and consistent from this point down to the nub.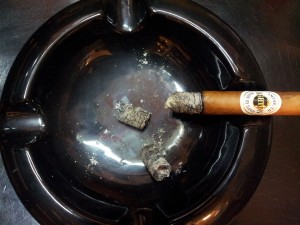 Conclusion: When it comes to a Connecticut, the partnership between Ashton and Fuente has really done it right. The construction was impeccable, the burn and draw flawless during the whole smoking experience.  The Ashton Classic is the type of cigar which can be enjoyed by a new smoker as a flavorful introduction to the world of cigars, or a seasoned smoker looking for a delicious enjoyable smoke with less strength.
Rating: 90
MSRP: 8.99