Nub Cameroon 460 Tubo – Cigar Review Final part of the 4 year Anniversary contest
4 Years ago Barry Stein created the blog A Cigar Smoker's Journal, and his first review was the Nub Cameroon. You can check out that first review which started it all right here. A lot has changed since then, the way reviews are done, the number of people reading them, and now even the person writing them. Since Kevin Paige, owner of Butthead's Tobacco, bought A Cigar smoker and I, Peter Glad, started doing more of the reviews I've tried to do Barry proud. From all the feed back we've heard I haven't done a half bad job so far. We'd like to thank all of our readers for staying tune, you cannot believe how much we appreciate this, words really can not express the gratitude we have for each and every one of you who follows this blog. Thank you all. Also I'd like to thank all of the other bloggers, industry reps, and industry people I have met since I got into this. All of you have been simply wonderful and I feel like the family has grown so much since I got into this. Working at Butthead's Tobacco Emporium has emerged me into the world of cigars and allowed me to learn so much so quickly. Everyday I'm meeting new reps, trying new sticks, and learning everything they'll let me pry from them.
Now we'd like to take this chance to give something back to all of you. Since the Nub Cameroon is where all of this started it is time to go full circle and re review the Nub Cameroon in its newer format. Yet also I'd like to give some of you a chance to have them as well. This until next Saturday anyone who posts on this review will be entered into a drawing to win 3 Nub Cameroon tubos. We are giving away 3 of these 3 packs so don't miss out, all you need to do is post.
Thank you everyone, Kevin & Peter,
The Nub Cameroon is made by Studio Tobac, which is part of the Oliva Family of cigars. They recently released all of their Nub lines in a 460 tubo. You can follow Studio Tobac on twitter (@Studiotobac), and you can find their Facebook page here. Today I am reviewing the 460 tubo as a second look at the cigar which started this blog.
Size: 4 x 60
Wrapper: Cameroon
Binder: Nicaragua
Filler: Nicaragua
Strength: Medium
Body: Full
Flavor: Medium
Cigars Smoked For Review: 1
Construction and Appearance:  The new nub comes in a cedar lined tubo which has some fantastic art work printed on the outside of the tube. The Nub Cameroon itself has a very light brown wrapper which is silky smooth with some very slight veins. The Nub Cameroon has a generous triple cap, and is well packed with no defects.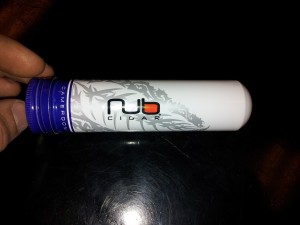 Flavor and Notes: The wrapper has a crisp clean grassy scent which is very light. The foot has notes of hay, earth, and spices. On the cold draw the Nub Cameroon has a deep earth flavor with a bit of spice.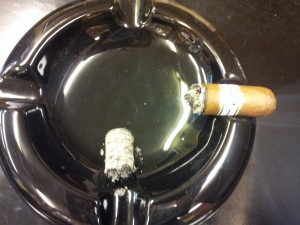 Smoking Characteristics: The Nub Cameroon kicks off with a light spice note which fades quickly to a light oil or buttery taste which rests on the roof of the mouth, the sides, and the tongue. The draw is excellent, an abundant amount of light, cool, smoke comes off each and every puff. A woody flavor starts to develop after the first half inch. It is light and a bit of an undertone at this point.  The burn is excellent and it is holding a great ash.
Into the second third the woody flavors develop into a full rich cedar spice. The buttery/light oil feel eases slightly a light hay flavor also develops as an undertone. A leather flavor also develops a bit into this third, which lends some more character to the profile of this smoke and increases the enjoyment. The smoke is still very rich, full, and cool. The oily finish on the palate creates a real smoothness to this smoke.
During the final third, the strength picks up to a full medium and the flavor really develops. The wood and spice tastes become much more sharp, and a light nutty flavor joins the leather as an undertone. The smoke is still very cool, rich, and full. The light oily feel  remains on the palate, but steadily decreases. The Nub Cameroon 460 starts to smoke a bit warm down to the nub, but still has an good flavor to the finish.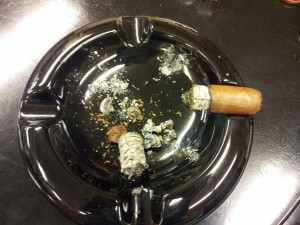 Conclusion: The flavor, body, and strength of the Nub Cameroon are all appreciable. It is a fine cigar but, unlike Barry I don't think it has a chance of falling into my top 10 of all time. It is a good smoke, with some great flavors, that develops well during the smoking experience.
Rating: 89, I agree with Barry's original score of this cigar.
MSRP: $6.99