Mickey Blake's Cigar Lounge – Trip review
It is no secret that a fair portion of cigars are smoked on the course. One lounge nestled in the heart of Connecticut has decided to switch things up, by bringing the course to the cigars. Mickey Blake's @MickeyBlakes is a new lounge in Southington, Connecticut which offers a lot to it's members and guests. In total Mickey Blake's is 4,600 square feet with a public lounge, a private lounge, a large humidor, and 3 golf simulators.
This weekend I made the trip up to Mickey Blake's to check it out for myself after hearing about it from a few associates and friends. To say it lived up to the hype is an understatement. The second you walk in you feel like an invited guest, actually more like a long lost family member. As I came in I was greeted by Lou, one of the owners who I had the pleasure of meeting recently. My trip started off with a tour of Mickey Blake's walk in humidor. The humidor was fairly large and contained enough offerings that anyone should be satisfied by the selection. But better yet, Lou talked to me about a few new goodies they would be bringing in shortly or already had on order.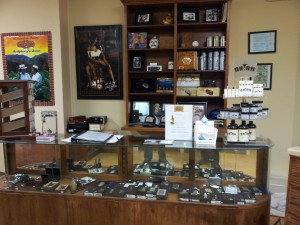 After browsing around the humidor, and picking up a few sticks of course, Lou and I headed over to the public lounge for a drink and a smoke. The public lounge is 1,600 square feet and made up of a few couches, two tables, some flat screen TVs, and best of all, two golf simulators. These simulators are available to anyone at a reasonable cost and allow people to enjoy a nice round of golf (at almost anywhere in the world) with a great cigar, even in poor weather. Best of all, I find simulators fairly forgiving, so to a golfer like me I'd prefer to play here year round. The public lounge is well lit, and very inviting. I felt right at home sitting down and chatting with Lou who treated me like an old friend. We discussed some of their recent events, which included a visit from Jaime and Janny Garcia of My Father Cigars. He also told me about some of the upcoming planned events including a visit from Clint Aaron, one of the owners of 262 cigars. At the mention of Clint, I instantly light up. From what contact I've had with him, I've found him to be very laid back and a real blast to chat with. It also doesn't hurt that 262 Cigars makes the Paradigm, which is one of my go to sticks, and also is heavily involved in the Smoker's Rights movement in away that I've seen few companies take part.
After finishing our sticks, drinks, and lively discussion about them he gave me a tour of the private members only lounge. While I was already impressed by the public side of the place, I was absolutely blown away by the private section. Walking into the private lounge is like stumbling onto the set of Mad Men. Within is a large assortment of leather chairs, couches, tables, TVs and plenty of guys sitting around smoking and chatting. This members lounge included a small kitchen area, a wine cooler, some card tables, chess boards, and even another golf simulator reserved for member use. The feel of the place was very warm and inviting, the atmosphere created by the leather seating, and the pictures hanging on the wall made me want to sit down and enjoy myself. If Mickey Blake's wasn't a bit of a drive, joining as a member wouldn't even be something I'd have to consider. Dues are a small price to pay to for the atmosphere of the place alone, but what is priceless is the people who make up Mickey Blake's.
For a Sunday night with nearly tropical storm level rain this place was really happening. There were at least a dozen members sitting around smoking either watching some sports, chatting, or getting a little work done. Lou walked around greeting people, all by name, and each short conversation left a warm smile on both the faces of the members, and Lou himself. He introduced me to several members from all different walks of life who seemed, to me at least, to have all been life long friends, but far more likely had only met recently at the lounge. This is the real offering of any B&M or lounge, the people. Everyone bonds together over their common shared love, fine cigars. These friendships inevitably start off with the question, "What are you smoking there?", and lead to dinners out together, rounds of golf on the actual course, and card games at the lounge. Everyone I was introduced to was very friendly and passionate about cigars. I had several conversations with members about different sticks, the lounge, and what ever else was on the tips of their tongue. I even got to meet a guy who was a bit of a cigar buff, and a reader of A Cigar Smoker, which is always a real treat for me.
After the place had cleared out a little, Lou and I sat down with some goodies from his private collection, a real treat I must say, which I am still very grateful for. We continued our discussion about the state of Cigars in America today. Lou shares my passion for B&Ms and lounges. He truly understands how people should be treated in this industry.
There are some stores where you walk in and the owners feel as if you owe them something already for the privilege of being in their shop. At times I've felt like an intruder walking into certain stores, like I've stumbled into enemy territory.  Lou agreed with me, having had similar experiences in the past, and he made sure to keep this in mind when creating Mickey Blake's. He decided that he would create the lounge with the idea of comfort and inclusion in mind. He seeks to ensure that anyone who enters Mickey Blake's is treated like a welcomed guest, or an invited VIP. They are given a guided tour of the humidor with the advice of knowledge of Lou and the other owners. After the humidor they are given a tour of both lounges, then invited to rest in the public lounge and enjoy a nice smoke.
It is the attitude of Mickey Blake's and other B&Ms like it that is helping to reestablish the cigar shop as a destination location for cigar smokers. When you buy a cigar you are literally paying for enjoyment and relaxation. When you do such in a hostile, or less welcoming environment, it directly detracts from said enjoyment. So when you meet people like Lou and go to shops or lounges like Mickey Blake's, it is certainly a sight for sore eyes. Talking with Lou you can see the passion and love he has for the industry, and has poured into his lounge. There is nothing like meeting a person and discussing something they love with them, especially when it is one you share.  Seeing the fire and passion in their eye as they speak ignites a passion of your own.
In fact it must be contagious since after their initial launch they sold out of lockers so quickly they've had to put more in place. They now have over 120 members, with the number growing constantly. It is a true testament to their staff and lounge when a place like this can open in a smaller town in central Connecticut and grow so quickly.
You can check out some photos of Mickey Blake's below, and visit their website here.